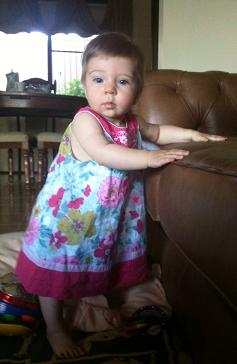 This morning I woke to find baby standing in her cot looking at me with a big grin on her face. Her sense of accomplishment was clear, she had managed to maneuver from a crawling position, to a sitting position and then grip on her cot railings to pull herself up.
There was no doubt, baby had reached another milestone in her development and it was now time to 'raise the bar' – physically and metaphorically.
Her cot made by Boori Country, has the functionality to raise and lower the mattress, as well as raise and lower the bar. It was now time to lower the mattress and raise the bar.
Baby's current stance means that as a parent I will need to 'raise the bar', be more attentive and aware of baby's physical capabilities. It feels like it won't be too long until my baby is walking and I'll be pleased that I have baby proofed the house!
Tags : | 5 comments