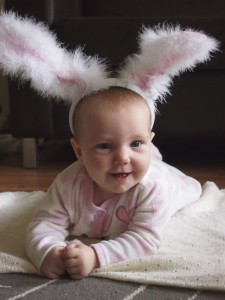 Our household has anticipated the arrival of the Easter Bunny with much enthusiasm.
For the past few days, my eldest has been checking her handmade basket for chocolate eggs. This morning she was ecstatic to see her basket filled with chocolate eggs.
Whilst we didn't see the Easter Bunny deliver the chocolate eggs this time, I can't imagine any bunny is cuter, than her sister when dressed up in her bunny ears! Happy Easter everyone!
Tags : | 2 comments