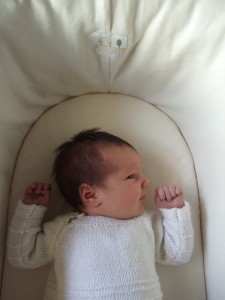 The moment a baby enters your world is one of the most special moments in your life. A newborn baby is so natural, innocent and pure. It is these attributes which I wanted to reflect in Baby's surroundings in her first nursery space.
The Natures Purest Moses Basket, Moses Basket Stand and Bamboo Knitted Blanket, not only look incredibly natural – they are made from beautifully natural materials.
The Natures Purest Moses Basket is made from woven maize and lined with 100% natural cotton. Inside the basket is a mattress pad, with a natural cotton fitted sheet and carry handles. The neutral coloured cotton products in the Natures Purest range are described as 'naturally coloured cotton'. Interestingly, this refers to the cotton pigmented fibre that grows in shades of green and brown. The neutral colour is from the cotton plants inherent genetic properties. It is 100% free from fertilizers, pesticides and chemicals.
To compliment the beautiful Moses Basket, Baby has a Natures Purest Bamboo Knitted Blanket which is wonderfully sized for the Moses Basket and her pram. The blanket is made from 100% reconstituted bamboo fibre. I've machined washed it and it washes like cotton. The bamboo is so silky soft against Baby's precious skin. With a baby 'expected' to spend 16 hours per day sleeping in their first year, it's important to surround them with healthy natural products in their sleep environment, such as the Moses Basket and Bamboo Blanket.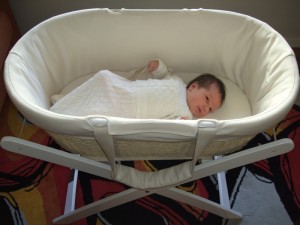 The Natures Purest Moses Basket can be used in 'stand alone mode'. I've found the Moses Basket quite portable and at times have securely rested the Moses Basket on furniture in the lounge room. The best option is placing the Moses Basket in the Natures Purest Moses Basket Stand. The stand is fully compatible with the Moses Basket and is available in White or Walnut. I opted for White to match the neutral tones in Baby's Nursery and around my home.
The Natures Purest Moses Basket and Stand is designed to hold babies up to 8.1kg. I must say my newborn baby looks so pure and innocent when sleeping in her Moses Basket. I love that is sturdy and strong giving me confidence that Baby is safe while she is resting.
The Moses Basket is easy to keep clean. The basket itself can be wiped down with a damp cloth and mild soap. While the removable liner, fitted sheet and carry handle covers are all machine washable.
To find out more on the Natures Purest Moses Basket, Stand, Bamboo Blankets and Nursery collection visit the www.naturespurest.com.au
Tags : Bamboo Knitted Blanket, Moses basket, Moses Basket Stand, Natures Purest, Natures Purest Bamboo Knitted Blanket, Natures Purest Moses Basket, Natures Purest Moses Basket Stand | Comments Off

on Natures Purest Baby