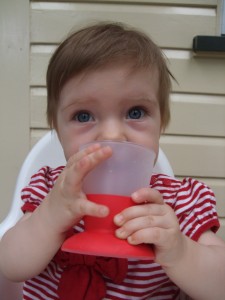 Baby loves breakfast time. It is the meal we always have together as a family. We take our respective seats around the table, Baby in her highchair of course, Dad on her left and me on her right. This morning is special because while Dad drinks his coffee from his favourite mug and I drink my tea from my favourite tea cup, Baby will be tasting cows milk for the first time from Baby's First Cup.
Baby will be drinking from the BabyBjorn Cup. The design of the cup helps baby learn how to drink from an open cup just like Mum and Dad. While BabyBjorn is synonymous with Baby Carriers (see the post on Carrying Baby). BabyBjorn make a delightful range of feeding products for babies.
The BabyBjorn cup has a striking appearance, with a large stable brilliant red base and a frosted plastic top. The ergonomic design of the cup is designed to be easy to grip for small hands. The funky red base is non-slip and a rim on the base outer edge allows the cup to slide instead of fall when baby knocks it or pushes it. The weight distribution of the cup, which is heavier on the bottom, means it is less likely for an excited baby to knock it over!
The cup is thoughtfully made from durable and recyclable plastics and contains no BPA or phthalates. The frosted top has a motif of a bear for Baby and measurement lines in ml (and oz) making it practical for parents. The cup can hold up to 100ml (3.4oz). It's easy to wash by hand or dishwasher and is microwave and freezer safe. I'm impressed by the practicality, design integrity and durability of the BabyBjorn cup. So it has won me over but the real test is how baby will review this product.
So Dad pours Baby a small amount of cows milk and I pass her the BabyBjorn Baby's First Cup. She takes it from me with both hands, brings the soft rim to her lips, takes a big gulp of milk, most of it comes streaming down her face and she gives us both a big smile followed by an uncontrollable giggle. This sends Dad and I into fits of laughter. It seems the BabyBjorn Baby's First Cup has won Baby over too!
The BabyBjorn Cup is recommended for babies from 8 months old. It's ergonomic design has been specially designed for little hands and baby's way of drinking. The BabyBjorn Cup is compatible with the BabyBjorn Plate and Spoon. To find out more about products from the BabyBjorn feeding range visit the BabyBjorn website.
Tags : | 6 comments