Posted by
Diana
on
Tuesday Jan 4, 2011
Under
Baby Travel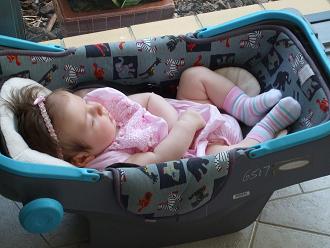 With the festive season coming to an end, those that have celebrated Christmas and New Year with baby away, will be travelling home. Here are some tips to help make a long car trip home comfortable for you and baby.
In my experience, a young baby can only travel comfortably for about 3 hours. My baby loves sleeping in the car and I try to plan the drive to coincide with sleep times.
For protection from the sun while on the road, organise detachable car shades which can be repositioned on your rear windscreen for baby, Tommee Tippee manufacture a good range of sun shades for the car.
Ensure baby is sitting comfortably in the car seat or capsule. I hired a Safe-n-Sound capsule from the Queensland Ambulance Service, to enquire contact Smart Services Queensland on 1300 369 003. My baby is so comfortable in her capsule, that she often falls asleep in the car and I can carry her inside in the capsule where she may sleep for another hour – if I'm lucky!
Pack baby's clothing, bed linen and blankets in a soft bag to maxmise space in the boot. I generally pack over a few days to ensure I don't forget anything when we're ready to leave. A well planned roadtrip will be easier for you and baby.
3 Responses to "Baby Car Travel"
Michelle Svensson Says:
January 4th, 2011 at 9:55 am

rusks, water, plenty of toys and your babies favorite music cd will stretch more out of a long road trip, and don't forget to make stops so you can all move about a bit, stop for lunch and throw some food on the restuarant floor, that always picks my two up and then were ready to go again: )

Rosaria Yohannes Says:
January 6th, 2011 at 6:27 pm

What theme are you utilizing here ? I like the style. Thank you for the post.

Jessica Says:
February 7th, 2011 at 8:28 am

I think my baby finds his Safe'n'Sound capsule really comfortable. I have used it for all three of my children.