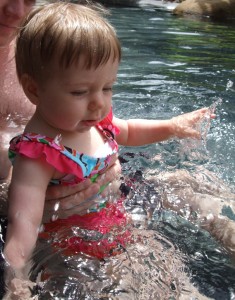 In the haze of the early days at home with our newborn baby, I remember watching a Water Safety DVD. It showed a swim instructor with babies of various ages, chanting "Baby's name, Ready, Go" before the instructor released a cup of water onto the respective baby's head. The DVD encouraged us – as parents – to do the same chant during bath time to teach our baby about water awareness. The chant became part of the bathtime ritual with our baby.
Fast forward 8 months to Baby's first swimming lesson with Hampton Swim School. It's Saturday morning and we're at the pool at Morningside State School in Brisbane. Hampton Swim School runs classes at pools in the Brisbane suburbs of Bulimba and Norman Park too. Dad is doing his best to look confident in the pool with baby as the class is about to commence. Since it's a Saturday, he find himself in the company of many other Dad's (and one Mum) sharing the experience of swimming lessons with their babies for the first time.
They are all in good hands, the class is being instructed by the Hampton Swim School Director, Julia Ham. She is a former Australian swimmer competing in the 1997 Pan Pacs, 1999 World University Games and 2001 World Championships and Goodwill Games.
It is clearly evident that Julia is passionate about introducing babies to swimming. She has developed the Baby Steps Program for Hampton Swim School  which is made up of 4 creatively named levels – 3 to 9 months (Starfish), 10 to 14 months (Jellyfish), 15 to 24 months (Turtles) and the transition toddler level (Penguins). Each level is made up of 20 progressive lessons, so in total there are 80 lesson plans.
Baby is attending the 'Starfish' class which has a variety of songs and activities, to teach Baby about water safety, floating, paddling and submersion. I'm pleased to say the chant I've been practising in the tub with Baby since she was a newborn features just before Baby's first "submersion". I think I held my breath at the same time as Baby went under. She emerged with a smile and giggle for Dad. She thoroughly enjoyed her swimming lesson with Hampton Swim School.
If you'd like your baby to learn to swim at Hampton Swim School, contact Julia and the team on (07) 33992004. When enrolling in the Baby Steps Swim Program – mention www.babyreview.com.au to receive your "First 2 lessons FREE". To find out more visit the Hampton Swim School website www.hamptonswimschool.com.au
8 Responses to "Baby Swimming Lessons"