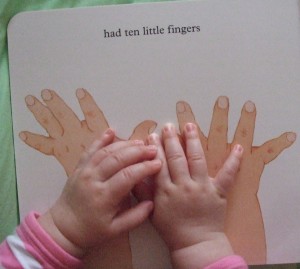 A beautiful gift for Baby is a classic board book. Babies love looking at the illustrations in the book,  listening to your reading voice, touching the book and sometimes chewing the pages.
'The Very Hungry Caterpillar' by Eric Carle is always a favourite. From comments on earlier posts, this book seemed a popular Christmas gift for Baby. The caterpillar with his insatiable appetite for all sorts of things, teaches Baby to count as he carries on eating and helps Baby learn about nature with his final metamorphosis. A brilliant book which recently celebrated it's 40th anniversary.
Another classic book which is celebrating it's 60th anniversary, is 'Goodnight Moon' written by Margaret Wise Brown and illustrated by Clement Hurd. A perfect read for Baby at bedtime, with rhythmic words and calming images.
I am finding that my Baby is currently enjoying 'Ten Little Fingers and Ten Little Toes' written by Mem Fox and illustrated by Helen Oxenbury. Reading this book is like taking my Baby on an adventure around the world, as my Baby is introduced to babies from all corners of the globe. The illustrations are gorgeous and Baby inevitably tries to touch the illustrations of hands in the book – very cute.
What book is your baby's favourite?
16 Responses to "Classic books for baby"