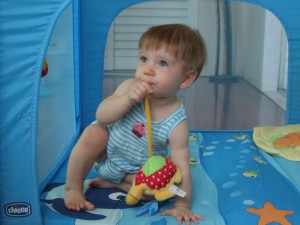 The Chicco Open Seas Playpen was delivered during Mothers Group at my place, amongst the chaos of Mums and Babies in every corner of my house. All of us were curious to see this portable playpen. The last time Australia saw this type of "portable" playpen was nearly 10 years ago.
Initial impressions were the playpen was very attractive in appearance. As the name suggests, the Open Seas Playpen has a sea theme – complete with a dolphin, fish, crab, starfish, sea horse and turtle. The playpen is surrounded on all four sides by a strong sheer netting in a beautiful hue of blue. As baby was lowered into the playpen, there were many comments from the other Mums that she did look like she was submerging into an underwater world.
Once inside the playpen, baby looked around and explored her new aquatic environment. The big play area of one square metre was sufficient for baby to freely crawl around. She crunched the tactile starfish, played with the dolphin's tail and pulled herself up to stand on two of the soft handles. There is a soft handle on each side of the playpen and the handles are cleverly designed to be a helpful height to assist a baby learning to stand. These handles can also be used to attach toys. Two soft toys come with the playpen, a turtle and a sea horse – these toys have proven to be a hit with Baby and her friends.
The portable playpen was easy to assemble and very similar to assembling a portacot. The frame clicked easily into place and the colourful mat featuring all the sea creatures was placed at the bottom. In fact, the mat can be removed and used as a playmat or used as a mattress if needed. The playmat is also fully washable.
Another cute feature of the Chicco Open Seas Playpen is that one of the netted sides unzips – to allow baby to get in and out. There is a small height difference between the playpen and the floor, so it's sensible to put a mat or rug to compensate for the height difference to make it easier for baby to crawl in and out. Once Baby left the playpen, she turned around to crawl back in! After Baby had finished playing in the playpen, another baby was quick to explore the playpen.
We all agreed the Chicco Open Seas playpen would be great to take in the boot of the car when visiting Grandparents or friends that may not have a suitable play space for baby. It's easy to assemble, bright, fun and when the babies have finished playing is compact to fold up. The playpen comes with a very practical bag with a handle to make it easy to transport.
The playpen is made by Chicco, a company which is over 60 years old and is still family operated. To find out more, visit the Chicco website www.chicco.com.au The Chicco Open Seas portable playpen can be purchased online from Baby Kingdom www.babykingdom.com.au. To purchase the product, click here – http://www.babykingdom.com.au/shopexd.asp?id=4974&section=search&cat=
6 Responses to "Open Seas Playpen"