Posted by
Lyndal
on
Sunday Apr 10, 2011
Under
Newborn
This little haven for baby could have previously been a study or office, or it's a specific bedroom you have in mind, or you're working with a temporary and space constrained arrangement. I'm in the latter situation, so every inch and potential source of storage counts.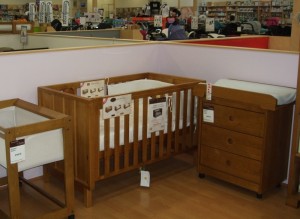 There are essentials to a nursery that have to be your first priority when you're not working with palatial luxuries. These are some of them:
Somewhere for baby to sleep: from newborn to about four months, then four months to toilet training age, then onwards…
Somewhere for baby to be fed
Somewhere for baby to have a bath
Somewhere for baby to be changed
Somewhere for storage
Then there's making it all look nice, and decorating is definitely the fun bit.
I got my baby kit induction at Baby Kingdom, where they have prototype nurseries set up so you can see how all this stuff fits together. So this blog is a focus on somewhere for baby to sleep.
Sleepy time
I'm slightly amused by the need for a cot, given that all you hear is that babies never sleep. But you do need one sooner or later. Baby's sleeping arrangement is an important investment. You might want to think beyond 'just a cot', especially given that you can plan for up to about three years ahead – and convert the furniture for other uses beyond that – and save yourself a bundle.
You can go for high quality wood and an obvious top-of-the-range quality or for a more budget conscious solution. They really do all look great.
Many cots upscale to become toddler beds. There are chests of draws that can accommodate a change table top, then later a hutch with bookshelves – great for adaptable storage so you can just top it up as you go and as your needs and space constraints change.
For my money, I love the Tasman Eco and King Parrot products – but then I'm working with a nursery space that needs to accommodate well proportioned options. Also, if being environmentally conscious is high on your priority list, I have to say the Tasman Eco range is great.
Tasman Eco has not only thought about adaptability in your home, but that grandparents will also be a big part of Baby's life too. So their cots are designed to transform from chaise lounge to cot and back again. I'm leaning towards the Siena in white. Which would look lovely at my Mum's place. For my place – when we finally get one – I quite like the Tuscany.
In the King Parrot range I like the Yarra and the Daintree cots. It's great that this stuff is made using Queensland timber, too, so less on the old carbon footprint, a homegrown choice and it's a good middle of the range solution that is still of a really gorgeous quality.
Both Tasman Eco and King Parrot have excellent warranties too and you can have a cot-and-mattress bundle deal on some of them at Baby Kingdom.
Mattresses
You can go for inner spring, foam or latex mattresses. I like the Tasman Eco latex boori mattress, which is very reasonably priced.
In the beginning
As a starter for the first four months, I love the Tasman Eco Amore bassinette and King Parrot Cub bassinette. I am also thinking about a Moses basket from Mothercare.
Having a bassinet or Moses basket is a very personal choice. It's absolutely fine to put your baby straight in a cot, in fact I've heard many people recommend that it's easier in the long run because there are no transitional issues later. I'm just one of those people that would quite like Junior to feel snuggly for the first few months and to be able to move them around the house with me throughout the day. But it is not essential that you have a specific newborn sleeping option – a cot is fine.
4 Responses to "Newborn Mum: baby's room – part one"