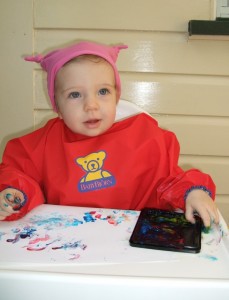 Baby has found her artistic side and is becoming quite the painter! Since Baby started painting at 10 months, she has honed her finger painting and hand printing skills to create contemporary masterpieces for her parents and grandparents.
To protect Baby's clothes during her artistic experimentation, I have been using the BabyBjorn Eat & Play Smock. It is a central piece of equipment for her painting and she squeals with excitement when she sees me unfolding the smock ready for her to put on.
The BabyBjorn Eat & Play Smock is designed for children from 8 months to 3 years old. I simply slide her arms through the sleeves and the firm, soft elastic cuffs ensure the smock stays put. I secure the smock with two sets of fasteners at the back – one behind her neck and one lower down. The set of fasteners around the neck of the smock accommodates two sizes: babies with small necks and toddlers with large necks. The design of the Eat & Play Smock is simple and roomy – it splays outwards and allows freedom to move.
Baby is visibly excited once wearing her smock, as she is aware she is about to begin painting. So I sit her in her highchair, put a piece of paper and a palette of red, blue and yellow paint, on her highchair tray in front of her. I can't resist putting a little hat on my punky baby to keep the hair off her face (and complete the artistic look)!
Baby looks at the palette with focussed concentration, dabs her finger in the blue paint and then smears her finger across the page. She then mixes the colours together and adds fingerprints all over the page in different colours. Finally, she presses her right hand in the mixed paint and puts a hand print in the bottom right hand corner of the page – as if to sign her artwork. Then with her painted right hand, Baby gestures to me that she is finished and I proceed to wipe her hands and smock.
The BabyBjorn Eat & Play Smock has faired well, showing durability during this road test and has succeeded in protecting Baby's clothing too! The smock is easy to wipe clean and although it doesn't need it this time, I'm pleased the smock is machine washable. The material of the smock is not only waterproof but lightweight and breathable.
While I mostly use the BabyBjorn Soft Bib for mealtimes, it's great to know I have the BabyBjorn Eat & Play Smock for those messier meals. Since Baby has such a positive association playing in the smock she doesn't hesitate to put it on for mealtimes too. I have the BabyBjorn Smock in Bright Red featuring the cute teddy bear motif which co-ordinates wonderfully with the BabyBjorn Cup and other items in the BabyBjorn Kitchen range. To find out more about the BabyBjorn Smock and the full BabyBjorn Kitchen range visit the BabyBjorn website.