Posted by
Daisy
on
Thursday Jun 9, 2011
Under
Baby Travel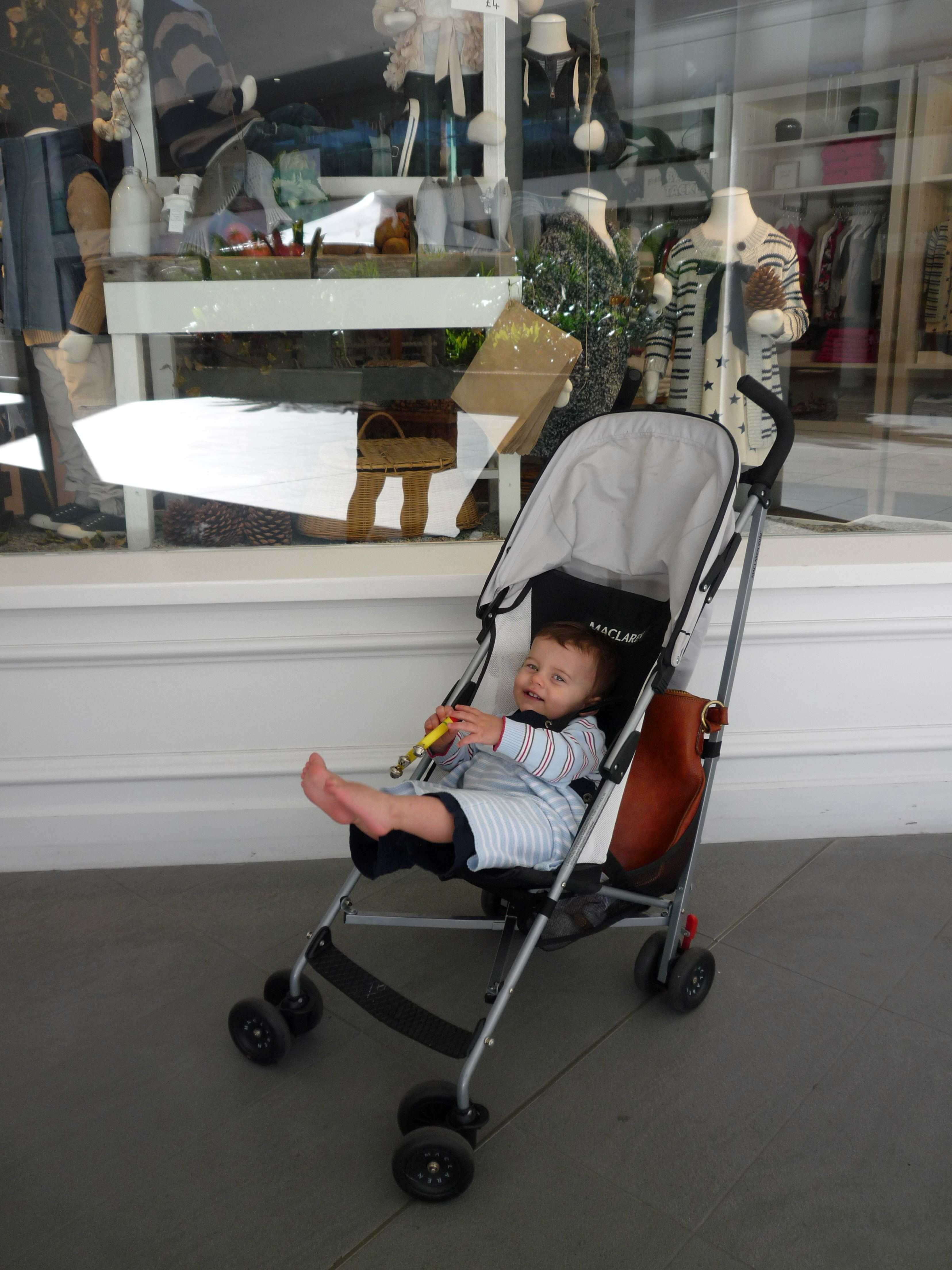 I remember baby's first visit to the gallery with some dismay. We were on our way with our fantastic and much loved (but also rather enormous) off-road pram and all the accouterments, and even though fully supportive, I could tell my mother was a little self-conscious of this troop next to her, more suited to jogging along a mountain path. Not only did I spend my time worrying about not intruding on other people's personal space or running over any toes, but I also felt unsuited to this environment and rather unglamorous.
We bought our Maclaren Volo umbrella pusher to use around town and whilst travelling, however I find we use it often, just not out jogging or on rough terrain. The Maclaren Volo's main selling points for me are that it is so lightweight, compact, all-round easy to use, comfortable and safe for baby and looks really good with any outfit in any setting!
It is easy to push and has very comfortable handgrips with a wrist safety strap. The pusher's compact size makes it easy to maneuver through small spaces, easy to fold and carry (with a shoulder strap built-in), and its fold-up size makes it easy to stow just about anywhere. It also boasts a large carry basket under the seat, which is great for those impromptus larger than expected shops at the grocery store!
Maclaren Volo features:
Lightweight, weighing in at a mere 4.0kg/ 8.8lb (without hood or rain cover): The Volo is the lightest and simplest of the Maclaren pusher range, perfect for taking baby out and about in urban areas and for travelling.
It has a Carrying Capacity of up to 15kg/ 55lb.: This weight limit allows for the Volo to be used well into Toddlerhood.
Appropriate from six months of age: The Volo is not suitable until the child is 6 months of age.
Recline: One position: This feature is in keeping with the Volo being light and simple.
Wheel Size 11.4cm/ 4.5in: The small wheel size is ample for urban areas. I have found that it is not the smoothest ride on rugged terrain, but then again, who takes a Mini Minor four-wheel-driving!
Water resistant Hood, which is extra large for maximum coverage: The hood is a good size and a great feature to catch light spray. Used in conjunction with the rain cover it offers good protection.
The Maclaren Volo boasts all the usual Maclaren features:
5-point harness system: I find the harness system on the Volo well balanced and secure, with the clasp requiring quite some finger strength, which I think is great, ensuring it to be child safe. Strap lengths at all harness points are easily adjustable as well as the height of the shoulder straps on the seat.
Washable seat: This has proved to be a very handy feature for those dirty parts that are just a bit much for baby wipes to tackle. I have been known to hose my Volo's seat down in the garden – and yes, it did clean off perfectly and looks as good as new.
Compact Umbrella Fold: This is the truly winning feature of the Volo in my opinion. It folds up into an unbelievably small package, which makes it so easy to stow away. It is also really easy to carry when necessary and has a comfortable shoulder strap built into the design.
Foot operated brakes: The red brakes on the Volo are in the center and easy to use with either foot.
Shopping basket: The shopping basket is really large for the size of the Volo pusher, reaching from the back all the way under the seat. Every time baby and I pop down to the grocery store I fall in love with the shopping basket all over again.
High performance aluminium: It is the use of aluminium which enables the Volo pusher to be so lightweight, which is what is it all about.
Rain cover included: The Volo's rain cover is easy to use and folds into a tiny bundle to be carried in the shopping basket under the seat.
Water resistant hood: The water resistant hood is a great feature to catch light spray, however I recommend using the rain cover for anything more than spray. The hood is designed to fold back, which makes it easier to see what baby is up to, and it is also easily removable for outings when it is not desired.
We are very happy with our Maclaren Volo umbrella pram. I find it practical, attractive and appropriate for urban settings in appearance and size and it is absolutely ideal for travel. In conjunction with our off-road/jogger pram it suits us perfectly.
8 Responses to "Urban Wheels: The Maclaren Volo"