Posted by
Diana
on
Thursday Aug 25, 2011
Under
Baby Travel
For our next trip to Sydney, I decided Baby needed a travel cot. I was looking for a travel cot which could be assembled quickly, was light weight with a strong body – I was looking for a travel cot with the attributes of an 'elite athlete' and I found it in the BabyBjorn Travel Cot Light.
The most impressive feature of the BabyBjorn Travel Cot Light is how quickly it can be assembled. I timed myself with a stopwatch and it took 41 seconds to assemble the BabyBjorn Travel Cot. This included opening the bag and lifting out the travel cot. The travel cot is assembled in one swift movement by holding the two short sides at the top of the cot, pointing the legs to the floor and unfolding it – hey presto it's up! The legs fell into position and then I placed the mattress firmly inside the cot. It was that simple!
When travelling everyone wants light luggage which doesn't take up too much space either. The BabyBjorm Travel Cot Light lives up to it's name weighing only 5kg, including the case. The case looks very smart in discrete black and looks like an ordinary travel bag with dimensions I measured as 60cm x 49cm x 13cm. So it's perfect for a family travelling with a baby.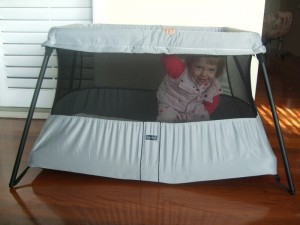 Space efficiency is central to the design of the BabyBjorn Travel Cot Light, once assembled the slanting edges mean it takes up little floor space with maximum space for Baby. The legs of the travel cot are strong and provide a stable base for the cot. The entire cot is covered in soft fabric and includes a sheer net fabric which makes it easy to keep on eye on Baby. Baby had fun looking through the net fabric at me too! Baby found the travel cot spacious and after our game of peekaboo, Baby had a blissful afternoon sleep in the travel cot.
The thick soft mattress of the BabyBjorn Travel Cot Light made Baby's sleep a dream! I measured the dimensions of the mattress as 60cm x 105cm x 5cm. Conveniently, the removable mattress and bedding are machine washable. Ordinary sheets can be used on the travel cot and BabyBjorn Travel Cot Fitted Sheets are available in organic cotton too. The BabyBjorn Travel Cot Light is suitable from birth to 3 years old.
Folding up the BabyBjorn Travel Cot Light was just as easy as the assembly. Firstly, I removed and folded the mattress, placing it in the travel bag. Then I released each leg and lay the legs diagonally inside the frame. I then folded the short sides of the frame together and placed it inside the folded mattress. After a fantastic performance, the BabyBjorn Travel Cot Light crossed the finishing line in style. To find out more about the BabyBjorn Travel Cot visit the BabyBjorn website.