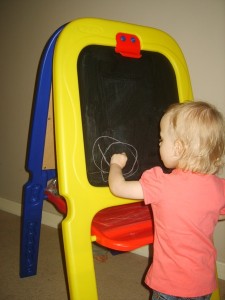 Katrina was the winner of the Reader Review competition – here is Katrina's review of the Crayola Grow N Up 3 In 1 Easel.
The easel is so easy to put together its only the four legs you need to click in place as well as  the tray that sits in between  and then its play time!
The easel came with magnetic letters and a white board duster which I think is fantastic! The easel has a white board side and that side is also magnetic for your magnetic letters and on the other side is the chalk board. Both sides have paper holders so the kids can put paper in to do paintings and drawings. Being plastic it's really light making it easy to move around the house as well as outside, especially if the kids want to do some painting.
My kids really love this they have played with it constantly since it has arrived. They love attempting to make words with the letters and endless drawings on the chalk board. My son now thinks he is a school teacher!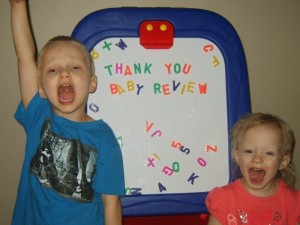 When it comes to cleaning, it's easy! A wet cloth is all you need and it's clean in a minute!
Overall the Crayola Easel is fantastic, educational and fun and we are really happy with this product.
Visit the website to find out more about the Crayola Easel and other great products from Kidsproductsonline.