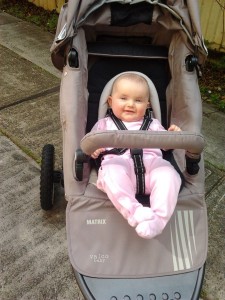 Baby has recently made her intentions clear: she'd like to sit up.
The trouble is, she doesn't as yet have the neck control to hold her posture when awake, and has a tendency to flop to one side when she has a nap in her pram or car seat.
I've been on the move of late, expanding the ten kilometre catchment of how far I was willing to travel from home when she was a newborn…so it's important that Missy travels in comfort. With that in mind, we sorted her out with a headhugger, and the Valco Baby Allsorts Seatpad & Headhugger set is just lovely.
The fabric is beautiful – so soft! It achieves the double act of being cuddly in colder weather, and soft and unsweaty in the scorching heat.
We opted for the licorice colour, but there's a lovely range of colours to choose from including cherry, grape, lime  and orange. The licorice just happened to coordinate nicely with Baby's Safe-nSound convertible car seat, have also used the set in our Valco Baby Matrix Dart pram.
This Newborn Mum loves the fact that it's not a fiddly thing to use. Pull the straps through the openings then Velcro everything together, and presto, you're on the move. Anything that simple and non-fuss has my money every time these days. And that goes double for this really lovely accessory being machine washable and easy to dry.
Having said all that, the best thing about this product is the moment when I see my darling little girl having a snooze in her pram or car seat, and she's rested, comfy and peaceful with thanks to her Headhugger.