I'm always looking out for unique clothing for Baby, pieces which are as individual as Baby herself. As serendipity would have it, I found Oishi-m a clothing line sized from newborn through to busy little people designed in Jan Juc and made in Melbourne.
Oishi-m (pronounced Oy-she-em) incorporates kimono, vintage and retro fabrics together with denim and cotton, to create everything from sensational skinny jeans to show-stopping limited edition garments.
The first piece Baby tries on are the Oishi-m Skinny Jeans. These statement skinny jeans are beautifully crafted from denim and kimono fabrics. The skinny jeans include a gorgeous 'Tummy Toastie' an elasticised waist to fit Baby's tummy to keep it warm and covered. The tummy toastie means that not only will these jeans accommodate growth in leg length, they will accommodate growth around Baby's waist too!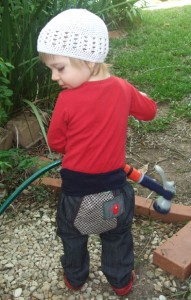 The cutest feature of the skinny jeans is the ample nappy bottom space. In fact, the typical Baby silhouette which usually includes a bulge around Baby's bottom is accentuated in a very practical, yet humorous way by the Oishi-m skinny jeans – the nappy bulge becomes a focal point created through the use of eye-catching kimono fabric with the Oishi-m logo. It's individual, it's cute and it's good fun all at once!
There is definitely a Japanese flavour in the Oishi-m garment range. "Oishi" in Japanese means "yummy" and "m" is for the "mini-one". The skinny jeans Baby is wearing are called 'A Tad Tasty Skinny Jean' and include a little longer leg length which is perfect for Baby who has long legs and tall is for her age. The cute leg cuffs can be rolled down as her little legs grow even longer! The oishi-m skinny jeans are suitable for both little girls and little boys.
For a truly girly garment, I couldn't resist the 'Bountiful Skirt'. This skirt beautifully features fabric panels of vintage floral, precious paisley and broderie anglaise. The stripy in-built knickers are super cute and the piece is completed with a signature tummy-toastie. Baby looks just as comfy and yummy in her Oishi-m skirt as she did in her skinny jeans!
To see the full range of Oishi-m's garments for babies and toddlers visit: www.oishi-m.com