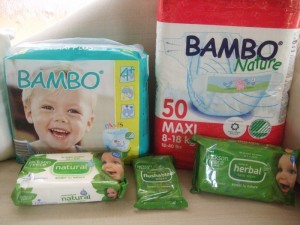 At 20 months old, Baby is becoming more interested in toilet training, nappy options and more confident in voicing her opinion on both!
In the evening she insists on a quick stint on her potty before her bath. Following her evening bath when she is fresh and clean she wears a nappy to bed. In the morning she will enthusiastically call out from her cot, in her loudest voice, to wear her "nappy pants".
I've recently discovered Bambo Nature Eco Disposable Nappies which are comfortable, well fitting, highly absorbent and wonderful for overnight. The Bambo Nature disposable nappy features a breathable fabric feel top layer with a double leakage barrier, to keep Baby dry and a really absorbent core. The tabs on the nappy are velcro-style, and re-sealable. In addition, Bambo Nature nappies are made in Denmark and feature a biodegradable core, which is 75% biodegradable as opposed to 35% in standard nappies. The raw materials used to produce the nappy are certified free from harmful chemicals, are 100% free from chlorine, TBT, PVC and latex too!
Given Bambo Nature's green credentials, I'm not surprised that Baby loves wearing a Bambo Nature nappy to bed and hasn't experienced nappy rash since we've made the switch.
Bambo Nature Nappies are available for Babies to Toddlers in the following sizes:
Premature – from birth to around 3kg
Newborn – from birth to around 4kg
Mini – from approx 3.5kg to around 5kg
Midi – from 5kg to just under 9kg
Maxi – from around 8.5kg to around 13kg
Maxi Plus – from around 13kg
Junior and XL Plus – from around 15kg
After a comfortable nights sleep in her Bambo Nature Nappy (with no leakage) Baby springs into action in the morning and asks for "Ma Ma" first and her "Nappy Pants" second. It's the Bambo Eco Disposable Training Pants she is calling out for when she requests her "Nappy Pants". The Bambo Training Pants have been ideal for her transition from nappies to toilet training. To put on the Bambo training pants, I help Baby step into them and she pulls the training pants up all by herself. The training pants allow Baby to practice using the potty during the day without too much assistance from me.
The Bambo Eco Disposable Training Pants feature a highly absorbent core, stretchy feel for a good fit and cute styling with a picture of a seal in an aquatic scene. The Bambo Training Pants are very spacious back and front – perfect for both boys and girls. To take the nappy pants off, you simply tear each side and roll them up. There is no need to lie Baby down on a change table to take the pants off or even to put them on. They are simply amazing!
Keeping with the best eco-intentions in mind for Baby, I have adopted Jackson Reece Biodegradable Organic Baby Wipes. These wipes are thick, strong and are available in scented and unscented. I must admit I like the fresh smell of the Jackson Reece Biodegradable Scented Wipes. The scented wipes are infused with a blend of Tea Tree Oil, Aloe Vera and the aromatherapy of Lavender for soothing Baby's precious bottom.Both the Jackson Reece Biodegradable Unscented Wipes and Scented Wipes have purified water as a key ingredient to prevent nappy rash. Both wipes are free from nasties, such as alcohol and chlorine. The wipes are made in the UK and specifically designed for children with sensitive skin. Jackson Reece make Flushable Biodegradable Organic Baby Wipes too. Which I'm sure we'll use once we make our foray to the toilet!
To find out more on the range of eco-friendly Bambo Nature Nappies, Bambo Training Pants and Jackson Reece Baby Wipes visit www.ethman.com.au