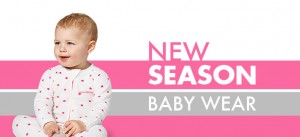 New Season Bonds Baby Wear is out this month! The revamped Wondersuit with safe protective zip front is our favourite here at Babyreview.com.au.
The wondersuit retains it's beloved features of rich terry fabric, fold over mittens for hands and feet – only with added zip! The front zip makes it quick and easy to dress baby.
Checkout the new Wondersuit on the Bonds website, while you're there, download the new Bonds App to shop online for all your trusty Bonds favourites and new collection from your phone.
We love the Bonds model in the new wondersuit too – you may recognise her from posts on Babyreview.com.au  The Bonds Baby Search 2013 is being launched on Tuesday 19th March – for all the details checkout the Bonds website.
One Response to "New Bonds Baby Wear"
Little Boo Teek Says:
August 14th, 2013 at 1:07 pm

I have always been a fan of the wondersuit, particularly with the fold over hands feature. They were always so comfortable and soft, the new zipper feature is an extra bonus.