Posted by
Diana
on
Wednesday Jun 26, 2013
Under
Baby Travel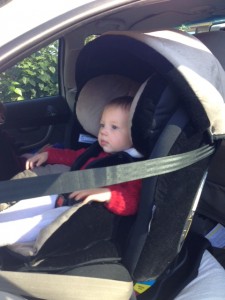 After I park the car, I peer over my shoulder and see my baby fast asleep in her InfaSecure Luxi Crown (Series 2) car seat. My baby is 10 months old, facing rearward and is in a lap of luxury in her Luxi Crown car seat.
The InfaSecure Luxi Crown is truly innovative – one of the first car seats for use from Newborn to 8 years old. I'm so pleased my baby is so comfortable, as she will be using the same car seat, when travelling through her newborn, toddler, pre-school & school days!
The Luxi Crown shines with versatility, allowing three configurations – rearward facing for infants, forward facing with harness for younger children and booster seat mode for older children. The Luxi Crown (Series 2) features a single belt path for all three modes, allowing easy installation.
A car seat such as the Luxi Crown, which has the capability of all three configurations, allows great longevity and presents real value for money. Safety features of the Luxi Crown (Series 2) include; a blow moulded air-filled adjustable headrest, five shoulder slot heights and nine recline positions.
The car seat includes a lumbar support insert which is ergonomically designed and an infant insert for smaller babies for additional comfort. Shoulder and crotch buckle pads, a large sunhood and a seat protector are included with the car seat.
The velour fabric covering the car seat is beautifully soft. The cover is attached to the shell with press studs, making the car seat cover easy to remove and clean. The Luxi Crown (Series 2) comes in three colours; Red, Taupe and Black.
To find out more information on the InfaSecure Luxi Crown (Series 2) and the full range of InfaSecure products visit their website. Keep up with the latest news on the InfaSecure facebook page.