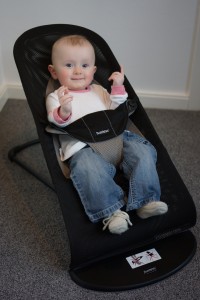 New parents can find themselves juggling any number of odd jobs while caring for a small child. But without a spare set of hands, baby wrangling and housework can prove a tricky combination. In those moments you can't devote to endless kisses and cuddles, a bouncer provides the perfect perch for Baby to watch the day-to-day goings-on at home.
Over the past few weeks our family has been putting a popular classic to the test. A half-century after the release of its first bouncer, BabyBjorn has added softer features and improved curves to its new Bouncer Balance Soft.
We've found the ergonomic design perfectly snug and comfy for our little girl. She loves rocking away in the supportive seat and, if your baby is anything like ours, she'll enjoy having her own secure space to play and giggle while never being more than a few steps from dad or mum.
We found the padded safety harness easy to adjust, which means we can slip bub in and out of the bouncer without fiddling with awkward buckles that can restrict movement.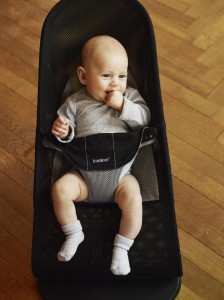 We especially love the three height settings, which let our little catnapper play, rest and snooze in the one spot without endless trips to and from the cot.
The super-sleek design, available in black/dark grey cotton or black/grey mesh, looks great in our modern home while the lightweight fold-flat design makes it super portable and easy to store. The mesh fabric is removable and machine-washable, too – a godsend for the hygiene freaks among us.
Best of all, even at seven months our baby still has many months of use left in the bouncer. Once she learns to walk, we can reverse the fabric and turn the bouncer into a toddler chair (for children up to 13 kilograms). Visit the BabyBjorn website for more information on the BabyBjorn Bouncer Balance Soft.
One Response to "BabyBjorn Bouncer Balance Soft: A Classic gets a comfy update"
Bean and Me Says:
September 24th, 2013 at 9:24 am

I love the design of this bouncer, no more tripping over the base! It is great to be able to fold it flat, that would have been a helpful feature when my children were younger. I used to have an older style bouncer and although I loved it, it was very bulky. This is fantastic.