Posted by
Diana
on
Wednesday Feb 5, 2014
Under
Baby Travel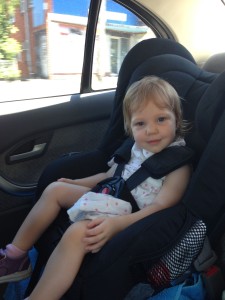 My Baby is now big enough to be facing forward in her car seat. To accommodate this new "forward facing" era, I was looking for a car seat with superior safety features, slim design, unbeatable comfort and easy installation. I found these features and more in the Safe-n-Sound Compaq AHR.
After unpacking the Compaq from it's box, I put the car seat in the forward facing position in my car. I could easily thread the seatbelt through the back of the seat with lots of room for my hands to manouvre and then I secured it to the anchor point. The Compaq AHR was really straightforward for me to install.
I was impressed that I could adjust the harness height from the 'front' and 'back' of the seat. Being able to adjust from the 'front' saves lots of mucking around, threading and unthreading the harness. The harness remains installed the whole time – saving time and improving safety. If you prefer to have your car seat fitted by an authorised restraint fitter, these can be easily found in each state, in NSW check the RMS website.
The AHR stands for 'Active Head Restraint' and the Compaq has been designed with deep side wings to shield and contain your child's head in a side impact. These side wings are EPS foam lined, providing additional protection in a side impact crash.
The slim design is perfect for bigger families and the 15mm less depth, makes this compact child restraint ideal for larger Australian families to accommodate 3 seats across the back seat (plus not have a squashed adult in the front)! The Compaq AHR would be ideal for smaller vehicles too.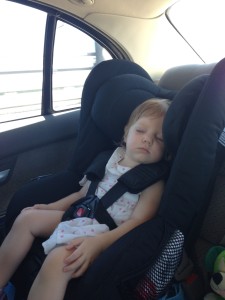 This reversible car seat may be used from birth to 4 years old. The rearward facing position is made even more comfortable with a gorgeous baby insert and shoulder pads to provide support for a younger baby. My Big Baby was so comfortable in the Compaq AHR that she fell asleep mid-journey! Oh, it is exhausting being one!
There are even 3 recline positions in forward facing mode to make life even more comfortable for your little one. The fabric is fabulously soft and the Compaq AHR is available in four colours – black, grey, cool berry and blue. I think the side pocket for extra storage is great and I'm pleased the cover is fully machine washable.
The Compaq AHR is well designed with safety, ease of use, comfort and versatility all achieved in a neat compact car seat. To find out more about the Compaq AHR and the full range of Safe-n-Sound car seats visit the Britax website.