Posted by
Diana
on
Friday May 1, 2015
Under
Baby Travel
We've just returned from a relaxing family holiday on the island of O'ahu in Hawaii. The Hawaiian word for children is keiki and the Hawaiian word for love is aloha, there is loads to love about taking children to Hawaii, here are my top 5.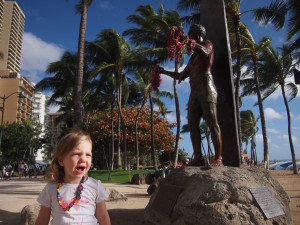 1. Waikiki Beach
Walking with the family along the golden sands of Waikiki Beach, with the crystal blue water glistening in the sun, and the Diamond Head Volcano in the distance, I really did feel like we were part of a scene from a Hawaiian postcard or living the lyrics of a Beach Boys song!
You can easily spend one day or one week enjoying Waikiki Beach, walking, swimming, snorkelling or surfing. In fact, Duke Kahanamoku who is credited with spreading the sport of surfing, is remembered with a bronze statue at Kuhio Beach Park on the foreshore of Waikiki Beach. A visit to the statue is worthwhile and locals adorn the statue with leis daily. At night there is a free nightly torch lighting ceremony and hula show. We stayed a few days at Outrigger Waikiki Beach Resort which was very family-friendly and the location was a fantastic base to explore Waikiki with the kids.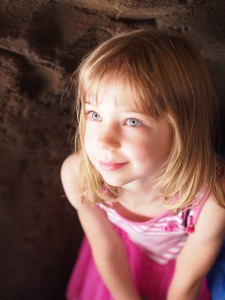 2. Waikiki Aquarium
The Aquarium is a brisk walk from the Duke statue through picturesque Kapi'olani Park. The Aquarium is run by the university, it is both fun and educational with the general admission a reasonable $12 and children $5.
Inside the aquarium there is everything from sharks to fish, corals to seahorses. My keiki were fascinated by the moon jellies illuminated with UV lights, which looked like something from a science fiction movie. I thought the male seahorses were fascinating – they get pregnant and give birth to hundreds of babies – really! Outside the aquarium there was more to see, including the Hawaiian Monk Seals and Clam Farm. It really was a wonderful way to spend the day.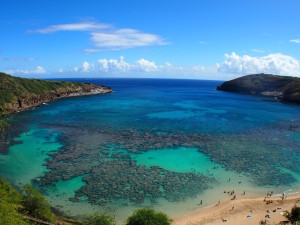 3. Hanauma Bay
A beautiful bay nestled in a volcanic rim, this is the perfect location for a family day of snorkelling and enjoying the beach. The waters are so crystal clear, you can see the coral reef that extends the bay. The reef is home to a myriad of fish and sea turtles. An education centre informs visitors on the delicate ecology of the bay and the environmental precautions which should be taken before snorkelling. Hanauma Bay is a pleasant 30 minute drive from Waikiki. It is a highlight on the itinerary of many of the tours from Waikiki and can be accessed by public bus 22 which stops at the Duke statue.
4. Aulani, Disney Resort & Spa
A little further a field on the west side of O'ahu is Aulani, Disney Resort & Spa. The resort is a solid drive from Waikiki and this area known as Ko Olina, has beautiful coves perfect for child-friendly swimming.
We stayed at Aulani for 5 nights and it was a wonderful experience for the children (and adults) in our family. Each morning we would see Mickey Mouse and Minnie Mouse posing with guests and visitors.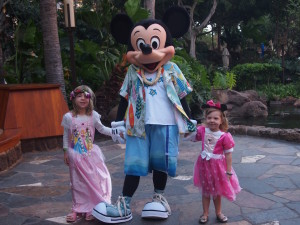 There was an amazing water park central to the resort, with a lazy river which the whole family could float around on a single or double inner tube with minimal effort. There was even an iPad adventure where the kids could activate waterfalls and move rocks at the resort.
The kids club was awesome and there were activities around the clock. In between classes on animation, there were fish feeding programs and astronomy nights. Our favourite was watching Disney movies on the big screen after dark.
The character breakfast was a real treat too – book in early if you fancy a pancake with Mickey as the character breakfasts are booked out quickly.
5. Paradise Cove Luau
The Paradise Cove Luau was fantastic family fun and a celebration of Hawaiian culture. Only a short stroll from Aulani Resort, we experienced traditional arts & crafts, games, foods and saw the best hula show in O'ahu!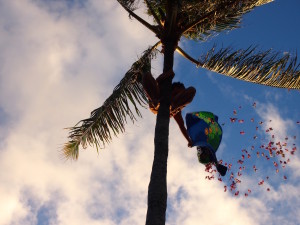 Before the show, the children were happily taught how to weave palms into headbands and thread orchids to make leis. Whilst we learnt some traditional Hawaiian games, like spear throwing, rolling stone discs and wooden darts.
We experienced a 'Shower of Flowers' which involves a tree-climber ascending a tall palm tree and releasing flowers from a sarong onto the crowd below – pretty amazing.
Just before sunset, we went for a ride on a traditional canoe before watching a demonstration of traditional fishing. There was even a surprise visitor – a local Monk Seal, who came ashore to have a rest. Our children were totally captivated by the seal (although no one else seemed to notice). The performance was about to start and it was spectacular, showcasing dances from across the Pacific and most notably the hula. The food was scrumptious and it was the best family night out we had in Hawaii.
There are so many fabulous things to do on a family holiday in Hawaii. So spread the aloha and treat your keiki to all Hawaii has to offer!