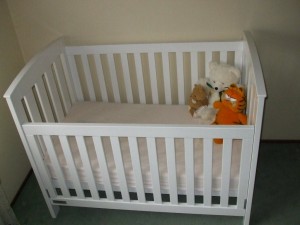 Baby loves sleeping over at her Grandparents place. There are certainly lots of cuddles, a warm plate of chicken soup and now a comfy Tasman Eco cot when Baby arrives at her Grandparents place.
After reading the review on Baby Sleepy Time, Baby's Grandma was so impressed by the range of Tasman Eco cots she wanted a Tasman Eco 'Siena Cot' which transforms from Cot to Junior Bed to a Chaise Lounge as Baby grows and then back to cot again ready for use with her next Grandchild.
So my old bedroom has now been converted into a nursery/guest bedroom with the beautiful Tasman Eco 'Siena Cot' and Tasman Eco Inner Spring Latex Mattress decorated with toys from my childhood (including a genuine Garfield)!
Both my Mum and Dad agree the cot is sturdy, well constructed and will last the test of time (and future Grandchildren). In fact, Tasman Eco furniture is covered by a five year warranty. Included with the Tasman Eco Siena Cot is a DVD for self-assembly or a set up service for $50 is offered by Tasman Eco to assemble your cot. My parents opted for the set up service and found it to be both convenient and professional.
The lovely 'Siena Cot' features elegantly simple lines and is well engineered with a concealed safety slide system when in the cot configuration. The two level base allows the cot to convert to a toddler bed. The cot is well proportioned with a height of 1060mm, length of 1385mm and width of 860mm. It matches their existing decor and can be used in the chaise configuration when they use the room as a guest bedroom.
The Tasman Eco 'Siena Cot' is available in White, Mocha and Latte. Baby's Grandparent opted for White and were pleased to hear the cot is stained with non-toxic finishes and the timber is plantation timber sourced from sustainable forests.
The cot is not only aesthetically pleasing – it is super comfortable too! The Tasman Eco Inner Spring Latex Mattress has been designed with comfort and practicality in mind. The latex and innerspring construction virtually eliminates body impressions (so no flipping required)! The latex reduces high pressure areas to enhance circulation while Baby is sleeping and the mattress is treated to stop the breeding of nasty dust mites. The mattress has a length of 1310mm, width of 750mm and depth of 120mm.
So pleased are they with the Tasman Eco Siena Cot, Baby's Grandparents are now looking into the Tasman Eco Drawer for extra storage under the cot, chest of drawers and wardrobes. For more information on the full range of Tasman Eco products, visit the Tasman Eco website.
Click on the following links to purchase the Tasman Eco 'Siena Cot' and Tasman Eco Inner Spring Latex Mattress directly from Baby Kingdom.
Tags : | Comments Off

on Tasman Eco cot and mattress