Posted by
Daisy
on
Monday Mar 5, 2012
Under
Baby Travel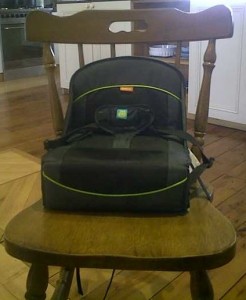 We have all heard that life is about the journey not just the destination, but I have found this a challenge to believe with a squirming, worming screaming toddler on my knee in Economy. If travelling with kids, I find it best to turn the journey into a fun adventure and to be seriously organised.
We have found the Maclaren Travel Accessories great to keep things organised, and have recently discovered the Brica Travel Range, which we are finding to be amazing to keep the whole family happy and my blood pressure at a reasonable level!
Fold-and-go Travel Booster: The Fold-and-go Travel Booster is a portable little seat that folds into a compact little bundle and unfolds in seconds. It has a 3-point harness, is strong and stable and straps onto a chair turning it into a portable highchair. We have found it really handy to keep in the car, incase of an impromptu visit to friends or a restaurant. Also the fabric is stain-resistant and easy to clean. It's my favourite in the range.
2-in-1 Travel Tote: This is a staple for us on any long car trip. It hangs from the back of our front passenger seat and is filled with things that keep Toddler entertained. There are multiple pockets of different sizes and I find it really handy that some are zippered to secure things such as snacks, crayons and sunscreen. Also it is handy how the whole Travel Tote can be easily moved from car to stroller.
Clip-on Wipes: If like me you like to have baby wipes handy at all times, you will just love the Clip-on Wipes. It is a simple and attractive little pack that clips on almost anywhere. The main advantage of this is that I don't have to continually reach into a pram or bag pocket to find the wipes. It is easy to open and closes tightly to help retain moisture. It includes 30 compact antimicrobial wipes of which you can get refills, however I have found the case can accommodate any sized wipe when folded.
Snack Pod: The Snack Pod is another winner. It is basically a little pod that can attach to any car seat or pram, which holds snacks and drinks within your child's easy reach. The cup holder has non-slip inserts to accommodate most drink sizes and the snack cup is dishwasher safe. The Snack Pod has an adjustable knob, which makes installation quick and easy and requires no assembly.
Handy Hook: The Handy Hook is surprisingly strong and can keep your bag safe from potentially germy surfaces. It can hold anything such as your handbag or nappy bag and can hang from shopping trollies, public change tables or handles. It has no sharp edges making it child-friendly and to ensure it will not scratch any surfaces.
UV Alert Shade: This sunshade is clever. It sits patiently in its rolled up position, allowing Toddler to watch out his window until UV rays are present. It then alerts us by its colour indicator turning blue. It is easy to install and apparently fits most vehicles. It also has a push release button to automatically roll up the sunshade.
Overall we have found our Brica accessories help in keeping things neat and organised in everyday life as well as on long trips. These products are obviously thoroughly designed and well made.
For more information on any of the above products as well as the full range of Brica accessories, please visit CNP Brands.
Tags : 2-in-1 Travel Tote, Brica Travel Range, Clip-On Wipes, Fold-and-go Travel Booster, Handy Hook, Maclaren Travel Accessories, Snack Pod, UV Alert Shade | 1 comment