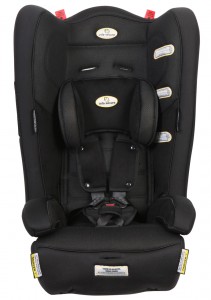 Choosing the right child restraint for your child can be a really difficult decision with lots of considerations. Safety is always the top priority and comfort is an important consideration too.
I was looking for an independent source of information on buying child restraints when I found CREP (Child Restraint Evaluation Program). This organisation rates child restraints on crash protection and ease of use. In fact, the car seats rated, are tested in a crash lab with crash test dummies.
I was curious to see the CREP ratings for forward-facing restraints which could convert to a booster seat. I found the InfaSecure Comfi-Cruiser achieved a top rating for protection and ease of use, making it one of the safest car seats for children aged between 6 months and 4 years old.
The safety features of the InfaSecure Comfi-Cruiser include deep, energy absorbing side wings which offer protection for side impact. The tall backrest helps to protect the head and neck. While the multi-height harness is fitted with shoulder and pelvic padding for increased comfort and safety.
The belt path design is low, so when correctly positioned the lap belt is tight over my child's pelvis. After some research, I found it's important to keep the belt path low over my child's pelvis, so the belt doesn't ride up into the soft abdomen area, where internal injuries are possible. It was clear this car seat has been designed with safety as the top priority.
It was easy to fit my child in the InfaSecure Comfi-Cruiser in forward facing mode. The shoulder heights are clearly marked on the side wings. The harness system was easy to adjust and I was reassured by the 1 CLICK, 2 CLICK independent latching buckle. It's great to know my child will be able to use the InfaSecure Comfi-Cruiser as a booster seat in the future too.
The full specifications for the Comfi-Cruiser and the instruction manual is available for download from the InfaSecure website. The dimensions of the Comfi-Cruiser are 500mm (width), 780mm (height) and 430mm (depth). The Comfi-Cruiser is available in the following colours: Black, Slate and Black with Pink Piping.
Visit the InfaSecure website for more information on the Comfi-Cruiser and full range of InfaSecure products.
Tags : Car Seat Review, CREP, InfaSecure, InfaSecure Comfi-Cruiser | 1 comment