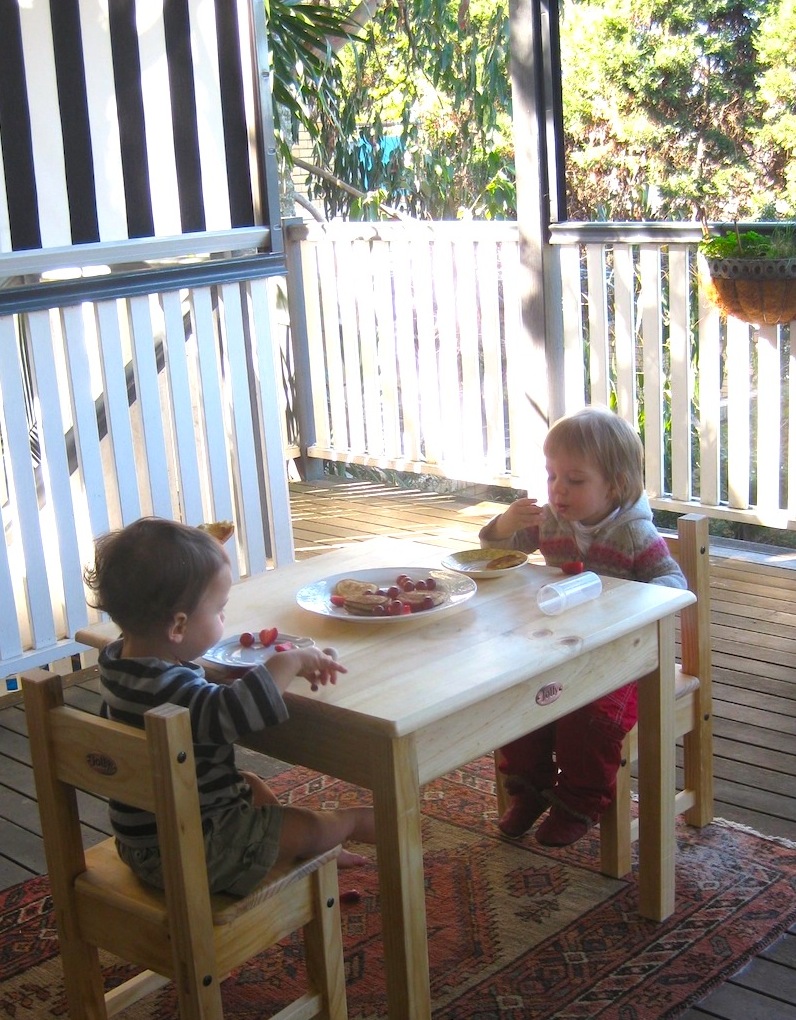 We have all heard the old cliché hundreds of times, but seriously, I can't believe how quickly children grow up! It seemed like yesterday that our Baby was a wee babe in arms and now all of a sudden my little son is having what looks like his first date!
It was a sweet affair with hotcakes and strawberries, perched on the sunny deck at their very own Jolly KidZ ToughTimber Table & Chairs Setting. They looked so grown-up sitting facing each other at the table and were very comfortable on their sturdy little seats. We were very impressed that they managed to hop on and off the chairs by themselves, which I think was made easier by the chairs being so sturdy and well balanced. They were very proud of themselves!
The Jolly KidZ ToughTimber Table & Chairs Setting is solid natural pine timber, very tough and durable, is beautifully finished with rounded edges and corners and has a high gloss varnish. The pine timber looks clean and fresh; the design and construction embraces strong simple lines, which ensures this children's furniture setting looks great in any home. It is easy to keep clean with a quick wipe down with a soft cloth and is also simple to assemble and dismantle if you are ever moving or handing this setting on to friends when your children have eventually outgrown it.
It comes with two strong chairs, which are suitable for a weight of up to 75kgs, and additional Jolly KidZ ToughTimber Chairs can also be purchased separately if required. The Jolly KidZ ToughTimber setting is designed in Australia and uses a thick timber design for extra strength. You can see when you are assembling the setting that it has been thoughtfully designed, is very strong and sturdy and uses a quality bolt system. It comes in a flat pack with clear assembly instructions and even comes with spare bolts and the required Allen keys.
I have found the Jolly KidZ table setting to be a perfect setting for him in which to undertake the important 'copying' developmental stage and he just loves using his table for eating with his friends, drawing or playing in general. I also find that the two of us sitting at 'his' table to prepare dinner works really well and is fun for both of us!
We are very happy with our Jolly KidZ ToughTimber Table & Chairs Setting because it has been an instant success with Baby, is well made from quality materials, is tough and durable and will obviously last for years to come and many, many tea parties.
This Jolly KidZ ToughTimber Table & Chairs Setting (being sold as Premium Children's Square Table Setting & 2 Chairs) along with other great Jolly Kidz products can be purchased at discounted prices from the Recommended Retail Price (RRP) from www.kidsproductsonline.com.au. I have recently discovered this website and have found the pricing to be really competitive for children's nursery equipment, indoor and outdoor furniture. It is definitely worth a visit to see some great products at competitive prices. In fact, Kidsproductsonline.com.au and Babyreview.com.au are offering you the opportunity to win a $100 Gift Voucher to spend at Kidsproductsonline.com.au  For further information on Jolly KidZ products including this table setting please visit, http://www.jollykidz.net/.
Tags : children's activity, children's furniture, feeding baby, feeding toddler, table and chairs | 2 comments