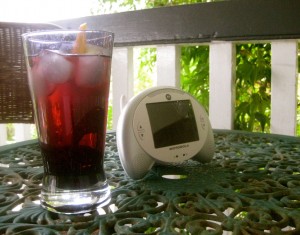 It is a luxury to be able to keep a close eye on Baby whilst maximizing my much-needed sleep. The Motorola Baby Video Monitor enables me to do just that. It also gives me peace of mind, which has become one of the most precious things to me as a parent.
I used to listen at sick Baby's door to check his breathing or creep into his room to make sure the ambient temperature was OK. I don't like to admit, but I have accidently woken him up doing so. I just love that the Motorola Baby Video Monitor enables me to see (it has enhanced infrared night vision!) and hear how Baby is sleeping and breathing and to check the room temperature, without disturbing him.
I am really impressed that the Motorola Baby Video Monitor is so easy to set-up and operate. You simply take it out of the box, charge it all up and it is ready to go. It has a thin little Users Manual (I find the size of this manual comforting) which clearly lays out what is what. Simply switch it on and you are away! I also love that it has clear buttons that are easy to navigate even when woken from a dream and still cloudy eyed.
This baby monitor being made by wireless communications expert Motorola is at the top of the game. It is a seriously impressive but easy to use product. There are two units: the baby unit and the parent unit. The parent unit has a high-resolution 3.5-inch colour screen and has amazing sound quality with a level indicator. It uses digital wireless technology, has two-way communication and has a range of 450 feet. It has a room temperature thermometer on the baby unit and display on the parent unit. It also has all those practical things such as 3.5 hours of wireless monitoring without recharging, and out of range and out of battery warnings. It also has a selection of lullabies that can be controlled from the parent monitor.
In everyday general use, it allows me a great deal of freedom that I would not otherwise have. With its range of up to 450 feet, I can see and hear Baby from anywhere in our house or garden. I often take the monitor outside with me when I am hanging out the laundry or on that rare occasion that I am relaxing outside in the sunshine, the baby monitor sits up patiently on the table next to my cool drink.
The Motorola Baby Video Monitor is ideal for any parent who needs to catch up on their own sleep, appreciates quality products and wants to keep an eye on their baby from anywhere within their house or garden.
For more information on the Motorola Baby Video Monitor, please visit CNP Brands.
Tags : baby monitor, baby video monitor, motorola, Motorola Baby Video Monitor | Comments Off

on I spy with my Motorola Baby Video Monitor… more sleep for baby and me!