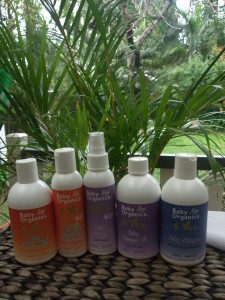 I have just finished bathing Baby, she looks relaxed and smells scrumptious. I attribute her calm disposition to the Baby Organics products I have used in her bath. Baby knows it's the start of her bath time ritual, when I put the plug in the bottom of the bath tub and start running the water. She excitedly tugs on her clothing to the sound of the gushing water and passes me her Organic Baby Bath Wash, indicating it's time for me to undress her and add her favourite bath wash to her bath. I do both and place a rather excited Baby in her bath.
Baby Organics Baby Bath Wash is made from beautiful ingredients, including organic lavender essential oil, organic evening primrose oil and organic lemon myrtle oil. Organic lavender essential oil is an ingredient in many products in the Baby Organics range. Not only does organic lavender oil have a sweet floral fragrance, it can assist with a wide range of children's complaints when in a bath wash, including nappy rash, teething pain and restlessness. It is a wonderful element and when combined with the organic evening primrose oil, creates a relaxing blissful bath for Baby.
So after sufficient soaking time, Baby gestures to the Baby Organics Baby Shampoo. This is my favourite product in the Baby Organics range. The Baby Organics Baby Shampoo is 81% certified organic and I've used this shampoo to clear up cradle cap in it's early stages. This shampoo is simply magical! It's soap and sulphate free, it is specifically designed to gently clean Baby's hair and scalp without irritation. It leaves Baby's hair hydrated and it smells devine. I've used this product since Baby was a newborn as my Baby has always had lots of hair and I know I will continue to use it into her toddler years.
When it's time to leave the bath, I wrap Baby in her hooded towel and take her to her bedroom. I apply the Baby Organics Baby Moisturiser. It is mild enough to use everyday to moisturise and protect Baby's skin. One of the ingredients in the moisturiser is a botanical blend of aloe vera. I can feel the subtle texture of the aloe vera as I gently moisturise Baby's skin. She lies so still when I'm moisturising and really enjoys the pampering.
To complete her 'Baby Day Spa' experience, I give Baby a relaxing massage with Baby Organics Baby Massage Oil. The massage oil is mineral free and is non-greasy making it ideal for Baby Massage. It contains organic chamomile essential oil which is soothing and relaxing. I start with circular motions massaging her feet, her legs, her chest, her arms and her hands with small amounts of the Baby Massage Oil. She gives out little giggles when she is ticklish, then Baby appears rather drowsy and it is definitely bedtime.
The Baby Organics 'Baby Travel Gift Pack' contains 50ml travel sizes of the Baby Bath Wash, Baby Shampoo, Baby Moisturiser and Baby Nappy Lotion to try out the Baby Organics products with baby. With Christmas around the corner this gift pack would be a lovely gift for friends and family members with a baby.
Another product I would recommend is the Organic Top to Toe Baby Wash and I've found it wonderful for traveling with Baby. It's an all in one convenient cleanser which can be used on baby's skin, hair and scalp in one easy step. It is 98% certifies organic and contains organic lemon myrtle essential oil which gives it a refreshing citrus fragrance. It is available in a convenient 125ml size.
To find out more information on all the products in the Baby Organics range and the sizes available visit the Organic Formulations website.
Tags : Baby Massage, Baby Organics, Baby Organics Baby Bath Wash, Baby Organics Baby Massage Oil, Baby Organics Baby Moisturiser, Baby Organics Baby Shampoo, Lavender Essential Oil, Nappy Rash, Organic Top to Toe Baby Wash, Restlessness, Shampoo for Cradle Cap, Teething | Comments Off

on Baby Organics