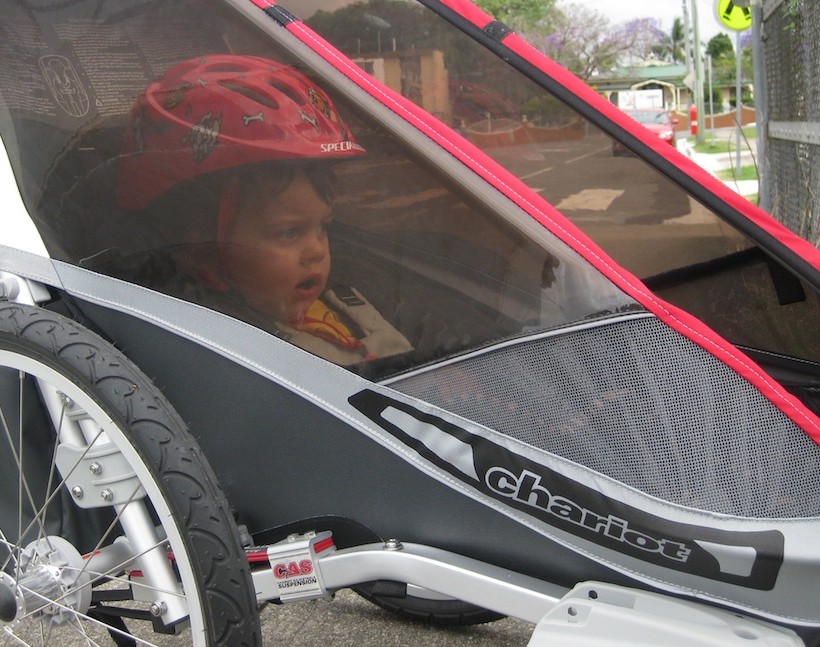 I'm going to say it straight up – I am very impressed by the Canadian designed Chariot Cougar in terms of performance, safety and appearance. It is a high-tech, top quality, easy to use, multi-function child transport system.
The Cougar can take you and your child cycling, strolling, jogging, hiking and skiing. We have tried the first three of these activities, which it performs like a dream. We have found the design to be thorough and well detailed and the materials used to be top quality and thoughtfully chosen. It is available as a single or a double version (Cougar 1 and Cougar 2).
Our Chariot Cougar enables us to be active as a family. It allows us to go on all kinds of adventures together and makes everyday exercising with our little one easy. At present my husband is training for the Busselton half-ironman and he uses the cycling and jogging functions often, which means Dad and Baby can spend more time together – giving me a little time to myself!
The Chariot Cougar itself looks like a serious piece of sporting equipment, and is. Chariot Carriers use their multi-function Child Transport System (CTS) and at its heart is VersaWing™ and ezClick™ which enable easy and safe attachment of all conversion kits. It is basically a secure button docking system with a backup safety pin. We have found that this system makes the process of changing kits simple and quick, and does so without compromising safety. Being somewhat nervous about bicycle safety particularly with Baby, I love this system and feel very comfortable using it.
Other winning features are the ezHitch™ and ezFold™. The ezHitch™ system is the cycle connection system and is basically a ball and socket design ensuring maximum range of movement whilst riding and also makes attaching or detaching your Chariot and bike really easy. Much like a car's tow-bar, we keep the "hitch cup" on the bike we tow with, which is great if we feel like going to an impromptu ride. There is also an EZ Hitch Partial available, which is a second skewer and "hitch cup" so that you can have more than one bike ready to attach the chariot to at any time. That said, it is very easy to change from one to the other in any a case… The ezFold™ is Chariot's folding system, which enables the Cougar to be folded down into a compact bundle for transportation and storage and auto-locks open or closed for safety.
Chariot Cougar 1 Features: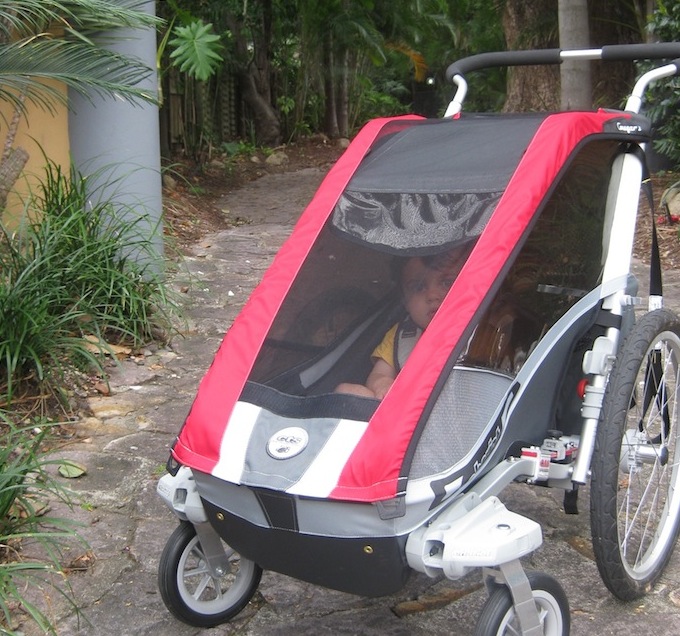 Three exciting color choices each with their own unique graphics;
We have the Red, Grey and Silver combination, but all three look great and are designed with safety and visibility in mind.
2-in-1 weather cover with Quickclip™, for easy and silent access to the child compartment, and Tough-Tek reinforcement fabric; This cover fully covers the opening of the compartment and is easy to use. It uses Quickclip™ fastenings, which being silent is great if you need to open the compartment whilst your child is asleep. The cover has a clear plastic waterproof cover, a mesh cover beneath and a sun shield under the upper rear of the cover. The whole thing can be rolled up and neatly secured with attached loops or removed when desired.
External mid-frame provides extra leg room and lower step-in height for your children; The Cougar has a low centre of gravity for stability and maneuverability and is designed to allow lots of legroom for the passenger. It has a maximum passenger height of 111cm and being low to the ground allows for your child to easily and safely step in and out.
Photo-luminescent Energlo® fabric for 360º visibility; Energlo is a seriously glow-in-the-dark fabric, which ensures maximum visibility in poor light conditions and at nighttime.
Large tinted poly-urethane windows for superior child visibility; From seated inside the Chariot, the passenger has a wide visibility range; having windows on all sides and a clear roof. I imagine this would be a lot of fun and that one would feel secure being able to see all that is around you. Baby seems to love it!
Clear backed side air vents; The air vents enable good air circulation inside the Chariot. The temperature can also be controlled using the 2-in-1 weather cover.
Widened child cockpit; The cockpit is spacious and there is obviously plenty of space for your child to grow into. The Cougar is designed for babies from birth with the use of the Infant Sling and Baby Supporter (strolling recommended only), and the seat is designed for children over 1 year old. The cargo load of the Cougar 1 is 34kgs, which is well into Childhood, promising years of use ahead.
Padded seat back; The seat is ergonomically designed to support your growing child. It is reinforced and well cushioned with a soft seat back and padded seat bottom. Baby sits happily and watches, plays and reads books, eats snacks and sleeps soundly when he wants to.
Standard HeightRight™ adjustable handlebars; The padded handles are comfortable and easy to keep clean and there are two heights, which allows adjustment for all users. The handle bar is one continuous bar, which is useful when jogging allowing for natural hand movement whilst not compromising safety. Hubby says this helps with correct running form as well. There is also a long wrist strap.
Removable hand-washable padded seat bottom with wicking mesh; I think as parents we all look for these practical details! The seat can be easily taken out and hand-washed. I have actually thrown it through a hand-cycle in the washing machine and it was just fine.
Large folding rear storage bag; The Cougar has an adjustable rear lower storage bag and an upper mesh storage bag, which has a hidden pocket inside. The adjustable storage bag is generous in size and we have found it perfect to carry everything needed for a day's outing or even a small grocery shop. It also folds up when not in use and is secured with quick-release clips.
Rear wallet/key/phone pocket; I like to have my keys, phone and purse close at hand and this little pocket is perfect for that. It is hidden within the upper mesh pocket and is secured with Velcro and elastic.  I feel very happy knowing that my personal things are quickly accessible yet stored safely.
Stridelite® ready design; The X-Country Series is designed to allow lots of room for a runner's stride. This is obviously an important feature on a product that is designed for jogging, and I find you have to be really trying to hit the back of the Cougar! Also for taller runners, you can fold the bag up out of the way (or cinch in the bottom of it with the straps) to ensure the stride space is clear. Stridelite ready is referring to the ability to add the stridelite accessory – a blue strobe light kit for extra visibility!
Additional 3M™ Scotchlite™ reflective material; In addition to Energlo® fabric, the Chariot Cougar uses 3M™ Scotchlite™ reflective material to ensure the high visibility. I think this is fantastic as we often use our Cougar for jogging in the early mornings and evenings when light conditions (and drivers reactions) are poor.
CAS™ Chariot Adjustable Suspension™; My bike fanatic husband is impressed with the CAS. As an ex-bike shop employee, he says it is made from high quality and expensive materials. It is very responsive and can be easily adjusted without tools. It absorbs all the bumps, jolts and knocks along the journey, making the ride smooth and comfortable for your precious cargo. Baby says "thanks Chariot!".
20" lightweight push button wheels with maintenance free bearings; The large wheel size is ample for travelling safely at cycling speeds and is also great for strolling and jogging in not only urban areas but also on unsealed terrain, such as grass or gravel.
Click n' Store™ Brackets; These built-in brackets allow you to easily store your cycling or jogging arms on the Chariot itself. This is handy if you are using more than one kit in the one outing such as cycling and jogging. You can also carry the strolling wheels if you stow them upside down in the same holes. The jogging wheel can be attached to the rear of the cargo bag with a strap at the centre top and Velcro on the two sides.
The Chariot Cougar also includes all the X-Country Standard Features:
As covered above these features include: Removable 2-in-1 weather cover, 20" lightweight push button removable wheels with maintenance free bearings, Patented ezFold™ and VersaWing™ 2.0. In addition:
Padded five point seatbelt system; There is a padded shoulder harness and waist belt and is anchored between the legs. It is really easy to use with the buckles at the shoulders (such a great idea!) and all belts are adjustable. Baby seems very happy and secure and I think he really appreciates that it is so easy to fasten and unfasten, and makes for very fast exits!
Protected child cockpit for one or two children; Having a fully protected passenger compartment is yet another winning feature. It can open right up so your child can feel out in the elements, and can be fully secured to stand up to the most inclement weather. Baby is happy and comfortable even when it is pouring with rain and he loves to snooze in his fully protected little cocoon.
Bug proof mesh upper seat for air flow; We often use the bug proof mesh when traveling through bush areas, as I am petrified of ticks and other Queensland creepy-crawlies.
Integrated helmet space for passenger comfort while wearing a helmet; It was quite funny introducing Baby to his fantastic Specialized helmet, which he regarded with some suspicion. He was fitted with his helmet at Action Bicycles in Brisbane, who are knowledgeable, passionate about cycling and cycling safety and great to deal with (full helmet review to follow). He now loves his helmet and associates it with fun bike rides and is very comfortable wearing it in the roomy cockpit.
Durable poly-urethane coated polyester fabric with water repellent (DWR) finish and Oeko-Tex® Standard 100 certified fabric; The fabric used is durable and water repellent; so when you are using the rain cover, the whole Chariot is waterproof! All the fabric is tough and so far has stood up well to everyday wear and tear.
Poly-urethane tinted side windows; The large side windows allow for great visibility. I find that Baby loves looking out the windows and the tinting is great to keep out glare.
3M™ Scotchlite™ reflective material; I am a big fan of anything that improves our visibility, and therefore safety, including all the reflective materials used on the Chariot.
Lightweight aluminium frame; The strong aluminum frame is what enables the Chariot to be so lightweight.
Integrated parking brake; The brakes on the Cougar are foot operated and located in the centre of the rear axle. I have to say that when I have the lower storage bag full, I find that I have to reach my foot under to apply the brake. I am not too concerned though, because it is a park brake and only applied when stationary anyway.
No tools required for assembly or conversion; It is great not to have to remember to take specific tools around with you.
Limited lifetime warranty; This shows that Chariot Carrier's really do have faith in their products.
Meets or exceeds ASTM standards; The Cougar has been independently tested and is AS/NZS 2088 Safety Standards Approved, which is compliant with Australian & NZ stroller safety standards. It also meets and exceeds American Society for Testing and Materials (ASTM) standards in product quality and safety.
The Chariot Cougar come with a clear and comprehensive Owners Manual that sets out a step-by-step guide on all items. I personally love the step-by-step pictures that accompany those instructions, which have helped me many times already and saved much frustration! I have just discovered that there are also great instructional videos on the Chariot Carriers website.
After having done some research on the company itself I am not surprised, although am further impressed, that Chariot Carriers are solely dedicated to outdoor child transportation, and are passionate about health and families. Chariots are designed and engineered in Canada, the company is privately held and family run and is proudly socially and environmentally responsible. I am a bit of a softy but I have to say, this stuff warms my heart and makes me even prouder to own a Chariot Carrier!
For more information on the Chariot Cougar, please visit the Australian and New Zealand Distributors Morris Stanley, whom I have found to be passionate, knowledgeable and helpful.
Part 2 (to follow): Long-term review of the Chariot Cougar's performance as a bike trailer, and some thoughts from Dad!
Tags : baby, bike trailer, Chariot Carriers, Chariot Cougar, family fitness, family fun, Specialized helmet | 2 comments