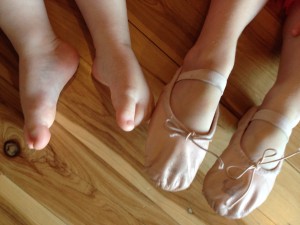 My little one recently declared she wants to be a ballerina. A 'Fairy-Princess-Ballerina' in fact! So after years of walking on her tip toes and impromptu twirls in the lounge room, I thought it was time to progress to the next level – with some ballet classes.
The search started for a Sydney based ballet school with a professional approach, without the fuss of concerts and costumes. After much research, I found Tiny Toes Ballet, who offer baby / toddler ballet classes for 2 1/2 year olds, and pre-school ballet classes for children 3 – 6 years old. The Tiny Toes classes are based on the Royal Academy of Dance Pre-School Dance Curriculum. Recently they started 'Primary Dance Academy' ballet and jazz for 5 – 7 year old children.
My Pre-Schooler was really excited to be attending her first ballet trial class. After spending some time deliberating over her outfit, she chose to wear a pink fairy skirt, pink t-shirt and pink leggings. There was no need for pink ballet shoes just yet, as bare feet were fine for her trial class. The first class is obligation-free and you are contacted after the class to get feedback and to see if you are happy to continue with the rest of the term.
We were warmly greeted by her teacher Miss Brittany and I was invited to observe the trial class. After a warm-up, there was an imaginative themed portion of the class. At one stage she was floating like a fairy, then she was ice-skating on a frozen lake and suddenly a hula hoop had become a fairy steering wheel. I must say, the fairy car being steered by my daughter, seemed to be going the fastest in the class! Amongst all the fun and imaginative dance, she was developing her coordination, listening to the music, harnessing her creativity and building her confidence.
After such a positive experience, I confirmed her attendance for the rest of the term. She recently acquired her first pair of pink leather shoes, which I am sure she has not removed since we left the store. She does have more technique when she performs her twirls in the lounge room, although she now refers to them as 'pirouettes' since starting with Tiny Toes. Her little sister is now mimicking her and doing pirouettes of her own. Possibly another ballerina in the making!
To find out more about nurturing and developing the creative potential of your young child through dance, visit the Tiny Toes website.
Tags : Ballet Classes, Tiny Toes, Tiny Toes Ballet | Comments Off

on Tiny Toes Ballet