Posted by
Diana
on
Wednesday Aug 8, 2012
Under
Baby Travel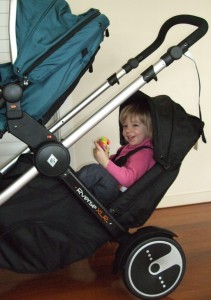 To accommodate both a toddler and a newborn, I've fitted the Toddler Seat to my bebe care Rverse XLR. It was so simple! The toddler seat snaps into place at the rear of the pram and the shopping basket area acts as the ultimate footrest, with plenty of space for my toddler to recline and stretch out.
The toddler seat can adjust to two headrest positions, reclined and upright.  The toddler seat also has a nifty canopy. To give my toddler plenty of headroom when sitting upright, a simple accessory clicks into place to raise the height of the bassinet above. It really is the prefect pram for a toddler and a baby.
Swish mudguards come with the Rverse XLR Toddler Seat for the pram's rear wheels. As well as adding even more style to this pram, they ensure my fashionable little toddler stays clean. A five point harness keeps my toddler safely secure in her toddler seat.
The toddler seat is designed for use from birth to 16kg, so there is great longevity. My toddler is already climbing into the toddler seat and pointing out the bassinet above is for her 'baby sister' which is just gorgeous! The toddler seat is well constructed and the black fabric is easily maintained with a quick wipe down.
Another great accessory for the Rverse XLR is the Maxi Cosi Adaptor. The adaptor clicks into place and is fully compatible with the Maxi Cosi Car Seat Capsule. This accessory makes the transfer of a precious newborn asleep in her capsule, from the car to the stroller – seamless. The stroller can be folded without removing the bracket making life easier for everyone!
The Toddler Seat and Maxi Cosi Adaptor highlight the versatility of the bebe care Rverse XLR for accommodating two little ones. To find out more about the Rverse XLR, Toddler Seat and Maxi Cosi Adaptor visit the CNP Brands website.
Tags : bebe care, bebe care Rverse XLR Toddler Seat, Maxi Cosi Adaptor for Rverse XLR, Maxi Cosi Capsule, Rverse XLR, Rverse XLR Toddler Seat, toddler seat | Comments Off

on Rverse XLR Toddler Seat and Maxi Cosi Adaptor