Posted by
Diana
on
Wednesday Nov 12, 2014
Under
Baby Clothes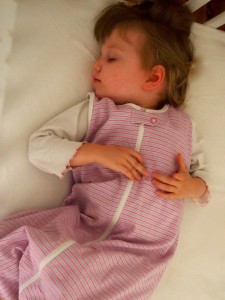 After an active day of play and discovery it is a relief when Baby goes down to sleep with ease. To make the transition to bed as simple as possible, we follow the same steps of bath, story, cuddles, sleeping bag and bed each night. So far, Baby has been easy to settle and I believe our uh-oh! sleeping bag is helping make bed time zippy in our household.
With summer upon us, Baby is currently wearing a sleeveless 0.5 tog pink multi-stripe sleeping bag to bed. The sleeping bag is all Baby needs other than a bottom sheet to cover the mattress. The uh-oh! sleeping bag fits Baby's small frame and is stretch enough to ensure my little contortionist is always comfortable. I have found the zippers to be really good quality and versatile with two zip heads making it super simple. The zip heads are covered with a tab to ensure my Baby will be comfortable in her sleeping bag all night.
The only tricky thing is assessing the correct tog for your baby's bedroom. Tog is a European warmth rating for bedding, it is used in children's sleeping bags to guide parents and carers when selecting the correct weight sleeping bag for each season.
The ideal bedroom temperature is believed to be approximately 18C. A simple way to check if your Baby is not too hot or too cold, is to gently place your hand between their shoulder blades – they should feel warm, not hot. I found these clothing indicators really handy:
0.5 tog – Sleeveless unpadded sleeping bag. Bedroom temperature from 20C upwards. Short sleeve summer bodysuit.
2.5 tog – Sleeveless padded sleeping bag. Bedroom temperature between 16C to 20C. Long sleeve pyjamas or sleepy suit.
3.0 tog – Long Sleeve padded sleeping bags. Colder climates and bedrooms that fall below 16C. Long sleeve light weight pyjamas or sleepy suit.
The fantastic thing about uh-oh! Sleeping Bags is they are designed in Australia with our temperatures and seasons in mind. In fact, this year uh-oh! turns 20 – after designing, manufacturing and supplying safe and comfortable sleeping bags for babies in Australia since 1994.
There are six different sized uh-oh! sleeping bags, with the largest being size 4. So even your biggest baby can be snug and warm. Your little one can progress to uh-oh! sleepwear and blankets when they are no longer wearing their gorgeous sleeping bags.
All uh-oh! Sleeping Bags and Sleepwear comply and exceed the Australian & NZ Safety Standards for Children Nightwear. Visit the Skeanie website to find out more about the full range of uh-oh! Sleeping Bags and Sleepwear.
Tags : 0.5 tog, 2.5 tog, 3.0 tog, Baby Sleeping Bags, uh-oh!, uh-oh! Blankets, uh-oh! Sleeping Bags, uh-oh! Sleepwear | Comments Off

on uh-oh! Sleeping Bags – bed time made zippy