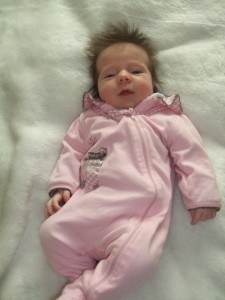 During my last ultrasound the technician commented that we should expect a baby with lots of hair.
We weren't disappointed when Baby arrived with a full head of dark spikey hair, earning her the nickname of "Punky" during our hospital stay. After comments about Baby's abundant hair, the nurses often asked if I experienced reflux during my pregnancy and in fact I hadn't.
I think I was the only mother who had a baby grooming kit in her hospital bag. The baby grooming kit is made by Safety 1st and includes a comb, hairbrush, scissors, emery boards, nail clippers and a toothbrush, all in a neat clear little bag.
I used the comb and hairbrush from Day 1! The scissors have been used for baby's numerous haircuts – five in as many months. And I prefer using the emery boards for filing baby's nails than using the nail clippers. Too many stories of parents accidentally missing the nail – ouch.
I am yet to use the toothbrush, although my Punky is displaying signs of teething – so I'll keep you informed of her progress!
Tags : baby grooming kit, baby hair cuts, baby haircare, pregnancy, reflux, ultrasound | 4 comments