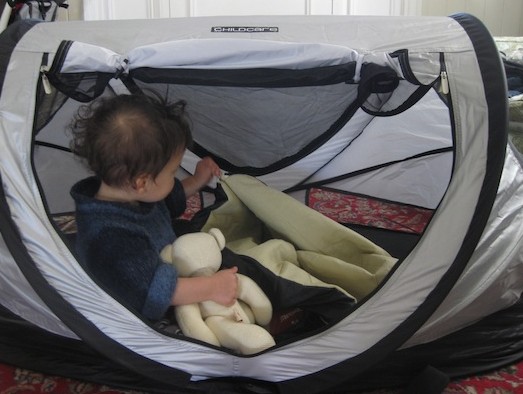 I love the idea of family holidays, but these ideas of us all playing on the beach, frolicking in the waves and enjoying the sunshine quickly disappear when I am sleep deprived.
As parents we know that preparation is always required when baby is expected to sleep away from home. We have been using the Childcare Orbit XL Travel Cot  as our portable cot, but our most recent addition is the Childcare Peuter Luxe Travel Dome to use in situations when the travel cot is not appropriate, such as Baby's morning nap on the beach whilst on holiday!
The Childcare Travel Dome gives us so much freedom, being a safe and comfortable place for baby to nap just about anywhere. It is versatile and is appropriate for use in situations such as a friends study whilst at a dinner party, at home for one of Baby's guests, the backyard whilst doing some gardening or even "going camping" in the lounge room.
The Childcare Peuter Luxe Travel Dome has an age suitability of 6-36 months, weighs a mere 3.75kgs, is super compact for transport and exceptionally easy to use with it's incredible "pop-out" and easy to fold assembly.
Features include: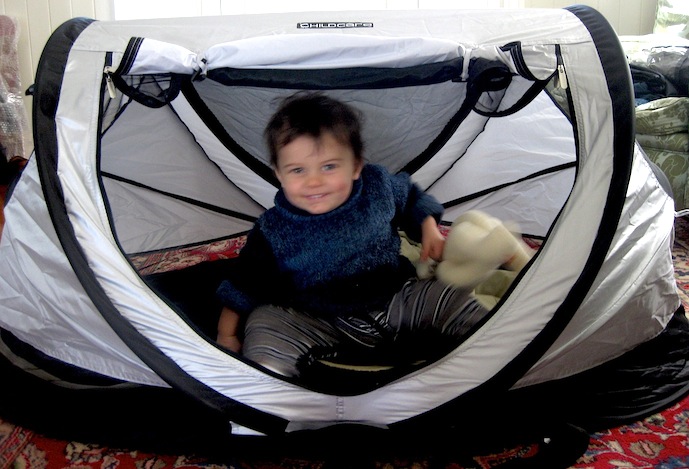 Portable travel dome with zip panel: It looks like a little tent and has a large zipped panel, which enables easy access. It has mesh windows with fabric covers on all sides, which is great for visibility but also provides protection when needed.
50% UV protection on all polyester panels: This is great if like us, you live in a sunny environment and spend time outside. We have also used the travel dome as a shade tent/cubby on picnics and outside play dates, which is practical and popular with the kids.
Carry Bag: The travel dome folds up very cleverly into the tiniest little bundle, curling around on itself to form a flat little disc. It comes with it's own tidy little bag, which fits easily into an overnight bag or carry-on luggage.
Self-inflatable mattress: This little self-inflatable mattress is comfortable and works really well. Last time I used on of these, I was on a school camping trip, and like I thought then, I think it really does save a lot of time and wasted breath! The moment you unscrew the little nozzle the mattress starts to inflate and is sealed by tightening the nozzle closed. For comfort and safety, the mattress is secured to the bottom of the dome in its own zipped compartment.
Sleeping Bag: The travel dome comes with a sleeping bag. The sleeping bag is warm, soft and comfortable. It is fitted to the shape of the travel dome and has Velcro on the underside to keep it in place. The sleeping bag folds up inside the travel dome when packed, which is great to keep everything ready together!
Quick "pop-out" and easy-to-fold assembly: This is a very clever feature. When you take it out of its little bag and removed the attached elastic fastener, the whole thing automatically "pops-out"! To pack up the travel dome, you basically push the top of the dome whilst holding on to one side and curl the poles around on each other. It makes the whole assembly saga stress free.
Easy to clean: The fabric is made from fire resistant polyester, and is easy to clean with a damp cloth. The sleeping bag can also be washed separately, as can the mattress be wiped down.
Light to handle: One of the travel domes winning features is that it is so compact, light and easy to handle. It weighs a tiny 3.75kgs, which Baby will be able to carry by himself before too long!
Overall, we have found the Childcare Peuter Luxe Travel Dome to be really versatile, practical and safe. It allows us more freedom to stay out and about and enables relaxed family holidays to be a reality!
For more information on the Childcare Peuter Luxe Travel Dome, please visit CNP Brands.