It's fair to say that here at Babyreview.com.au we like a good pram. So, as you can imagine, we have been looking forward to test-driving the Bugaboo Donkey. So the all-important question…  does it live up to everyone's high expectations?
Since receiving the gorgeous blue and black Bugaboo Donkey, it has tirelessly served us on all kinds of expeditions – all the while patiently carrying gaggles of kids, sleeping babies, piles of shopping, stacks of dry-cleaning and mounds of miscellaneous children's things.
What is it?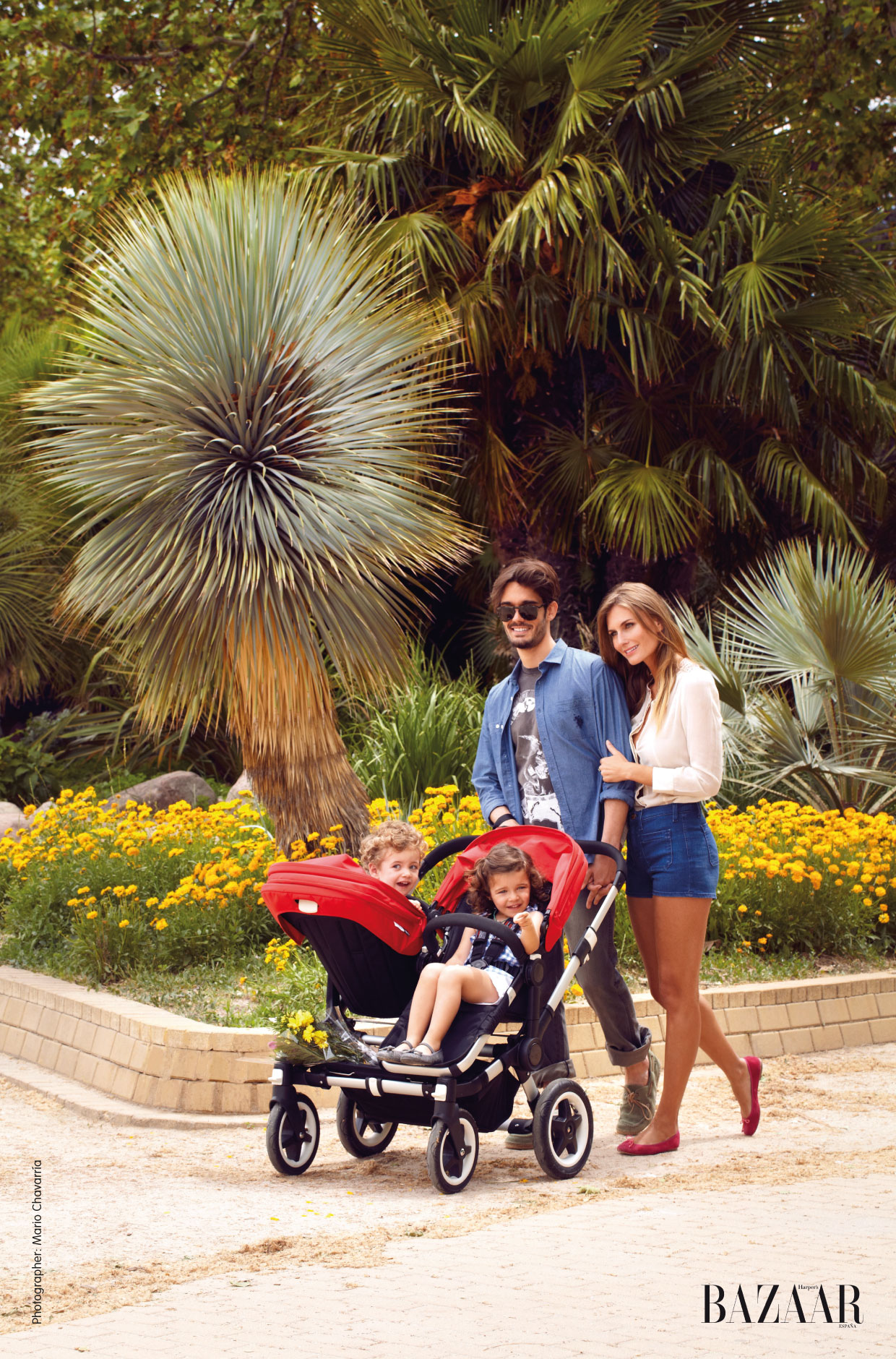 The Bugaboo Donkey is a convertible/extendable single/double stroller. With three easy clicks, it goes from a single (The Mono which is 60cms wide, which is the same as the Bugaboo Cameleon) to a full-sized double (The Duo which is 74cms wide).
Both side-by-side seating positions have independently interchangeable bassinets and seats (making it suitable for twins and different aged children from birth to 17kgs) – both of which positions are reversible and reclinable. This makes it possible to put child/s in any desired position such as facing you, the world or each other.
Being a side-by-side seating setup, the Bugaboo Donkey caters for you being able to see both children face-to-face at once increasing socialisation between you and the children and between the children themselves.
The overall operational feel and movement of the Bugaboo Donkey is excellent. It does indeed have all the things you would expect from Dutch designed Bugaboo, such as refined design, top quality, easy to use, super versatile and comfortable as anything for your precious cargo.
How it works

As a picture says a thousand words, I certainly can't compete with the great little Bugaboo clip that explains how it works. It is made in sections and covers the following sections – which I have also commented on:
Mono duo mono convertibility – very well designed to be easy to use and stress free. Remove seat, three clicks, add basket, done. Remove basket, three clicks, add seat done. Simple as pie.
Suitable from birth – bassinets  are soft, spacious, sturdy and secure. Very easy to remove whilst Baby continues to sleep soundly.
Reversible and reclinable seats – fantastic feature. Increased surveillance and socialisation, but also ability for child to look out and see the world. I find my toddler usually wants to look out (and chatters away to me), whilst I feel much more comfortable being able to see Baby (especially whilst they are sleeping). Also worth mentioning that the toddler seat is easy to climb in and out of. The harness system is the best I have used: It is adult friendly and child safe and easily adjustable.
Multi-terrain – It has been able to go wherever I have wanted to go so far, including several off-road conditions (even at a slow jog!).
Two-wheel position – This would be fabulous for the beach using the larger wheels only (see the cool clip).
One-piece fold and self-standing – Once you have the knack of the fold it is quick and easy. It seems to fold in on itself once and then again.
Compact fold – compact fold… well I suppose this is relevant right?! Obviously it is considerably larger than my Maclaren umbrella pusher, but then again that is comparing apples and oranges. It is a double stroller and folds very compactly for what it is. You can always change it into single before folding it, which makes it even more compact.
Car seat adaptability – this is a great feature for a newborn, so as to not wake them when transferring from the car.
Brake and height adjustable handle bar – No surprise that this is yet another perfectly designed feature. Easy, simple, practical and a must if you want comfort for both pushers of differing vertical needs. There is also a safety strap located in the centre of the handlebar which can reach to either hand position. The handle bar itself has a great hand feel and is super sturdy.
You can also explore all the chassis details (such as the swivel wheels, brake block, suspension etc.) at http://www.bugaboo.com/learn/bugaboo-design, which is a cool little interactive map showing how all the parts are work.
Statistics… and how they rated
Suitable from birth to 17 kg / 37.5 Lbs – As well as this suitability, it also can accommodate different ages at the same time and also grow as your family does. I think this is a key feature.  
Dimension one-piece fold into Duo: 52 x 74 x 93 cm / 20.5 X 29 x 36.6″ – As a Duo it does fit through most doorways and does fit on all paths that cater for wheelchair access. Just remember, it is a double pram so just use common sense.
Dimension compact fold: 91 x 60 x 40 / 34.3 X 23.6 X 15.7″ – As mentioned above this is really about the same as a full sized single.
Weight stroller with 2 seats: 15 kg / 33.4 Lbs – You can feel the difference between a single stroller and packed double stroller, but that is to be expected. Also, if you are carrying children of different weights side-by-side (e.g. newborn and toddler) you can feel that the pram requires a little extra effort on the heavier side. So, if you are worried about overdeveloping the muscles on one arm you can always change the bassinet and seat positions between outings 😉
Width in duo: 74 cm / 29″ (width in mono: 60 cm / 23,6″) – As above
Width with one car seat: 84 cm / 33.1″ –  This is a little wider that the full Duo width, so just watch those doorways.
Storage: under seat basket 28 lbs – So much storage you can easily do a decent shop at the grocery store whether you have one or two kids in tow.
10″ Swivel wheels & 12″ rear wheels with air filled tyres – This larger wheel size means that the Bugaboo Donkey easily takes on the great outdoors and also enjoys a suburban jog. Remember to check the pressure in the tires to ensure maximum comfort for passengers. The swivel wheels also mean the pusher is very easy to direct, even with one hand in the centre of the handlebar.
After test-driving the Bugaboo Donkey it is evident that all the details have been thoughtfully engineered and well made. It is like a high precision piece of kit but also super easy to operate. Like they say the 'vision comes from a distinct Dutch point of view that informs design at Bugaboo: reduce complexity to the essence to create harmonious form and function that endures.'
So, does it live up to our high expectations?
Well that would be an unequivocal yes. The Bugaboo Donkey promises to do a lot and it delivers on it all. Exceptionally well.
If you have two children of pram ages (i.e. twins or different ages) this pram offers an excellent transport solution. Here at Babayreview.com.au we continue to be impressed with Bugaboo and are excited to see what they get up to next!
Tags : Bugaboo, bugaboo donkey, convertible pusher, donkey, double pram, double pusher, stroller | Comments Off

on Bugaboo Donkey: Believe the hype?