Posted by
Diana
on
Friday Feb 1, 2013
Under
Baby Travel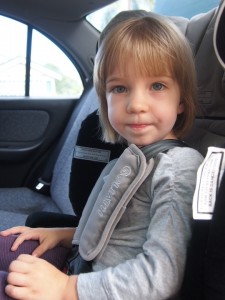 I've just had my second baby and already the back seat of my car is filled with car seats. When it came time to upgrade my toddler's car seat – safety, functionality and longevity were at the forefront of my mind. The Maxi-Cosi Goliath Convertible Booster Seat satisfied all my criteria.
The Goliath is a giant when it comes to safety and utilises Air Protect technology. Developed in the US, Air Protect has been designed to protect your child from side impact collision and immediately reduces crash forces at the most critical spot: around a child's head. In essence, Air Protect shields a child's head from impact and immediately reduces forces through the precise release of air.
In addition to the safety features of the Maxi-Cosi Goliath, the narrower seat design makes it easy to have up to three car seats in the backseat of my car. Making this seat a real winner amongst families with three children or those planning for more children. The functionality of the Goliath doesn't end there, it has an adjustable safety harness, independent latching buckle, locking headrest and a reclining backrest.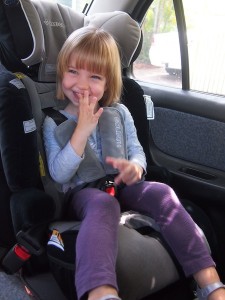 The Maxi-Cosi Goliath can be used in "Toddler Mode" which is a forward facing position, up to approx 4 years old or until a child's shoulders reach the middle shoulder height marker. The car seat then converts to "Booster Mode" with a lap sash seatbelt, from approx 4 years to approx 6 to 8 years old when a child's shoulders reach the upper shoulder height marker. Both these modes give this car seat fantastic longevity.
The styling of the car seat is quite swish, with padded belt mates and armrests, drink side pockets and a high back car protector mat. The car seat fabric is so soft and smooth against my little girl's precious skin. The covers are easy to remove and are machine washable. The Maxi-Cosi Goliath seat is available in three different colours: Stone / Black, Ash / Black and Olive/Black. I have the Ash / Black combination and my little one seems very happy with her new car seat.
The Maxi-Cosi Goliath is ideal for growing families looking for a safe, functional car seat with outstanding longevity. To find out more about the Maxi-Cosi Goliath and other great products visit the IGC Dorel.
Tags : Air Protect, Air-Protect Technology, Convertible Booster Seat, Maxi-Cosi, Maxi-Cosi Goliath, Maxi-Cosi Goliath Convertible Booster Seat, Toddler Car Seat | Comments Off

on Maxi-Cosi Goliath