Posted by
Diana
on
Monday May 20, 2013
Under
Newborn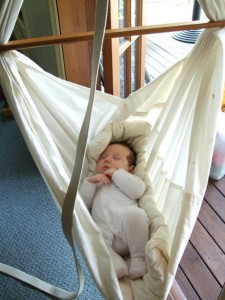 I first encountered Natures Sway hammocks during a yoga class at Yoga Baby. Mums would lay their bubs to rest at intervals during the class in the hammocks and miraculously the babies would sleep.
Having never tried a hammock before, I wondered whether my babe would fall asleep as quickly as the others. As you can see from the pictures, she fell fast asleep in the comfort of the Natures Sway Hammock.
Hammocks are a wonderful alternative to western style cribs and are used allover the world to provide a perfect sleeping environment for baby. The Natures Sway hammocks are designed in New Zealand and are made from double-boiled cotton calico or organic hemp / cotton blend fabric held in place by a hard wood beam to ensure the fabric keeps apart. At the top of the hammock is a spring which allows the hammock to be bounced gently lulling baby to sleep. The hammock has been designed to support weight up to 15kgs.
Once baby is trying to roll over, sit up or wriggle around, the hammock is no longer suitable. However, in the early months, it is such a restful chilled place for baby to sleep.
The Natures Sway baby hammocks come with a natural New Zealand wool mattress. The woolen mattress provides beautiful warmth for winter babies and coolness during the summer months too. To find out more about the Natures Sway Hammocks and the full range of accessories visit the Natures Sway website.
Tags : baby yoga, Hammock Accessories, Hammock Sheets, Natures Sway, Natures Sway Hammocks | 1 comment