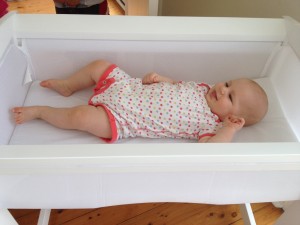 Getting organised and ready for the arrival of a new Baby is exciting for everyone. I believe the two essential items for a Nursery are a good quality Bassinet and Change Table. This satisfies Baby, whose early life routine includes; feeding, sleeping, nappy changing and then feeding, sleeping and nappy changing some more! My recommendation for these newborn essentials are the Tasman Eco Amore Bassinet and the Tasman Eco Turin Change Table.
The Tasman Eco Amore Bassinet is well constructed with a solid timber frame which has beautiful curved ends. The sides are made from a lovely, breathable,mesh fabric – which is fully washable. Not only is the bassinet easy to clean, it is very easy to move around and very safe. My favourite feature are the four castor lockable wheels. I've found the wheels handle well both on timber floor boards and carpet. It is so convenient to have a bassinet which is mobile, it means Baby can be with you, no matter where you are in your home and safe from movement when the wheels are locked.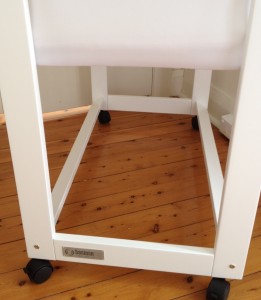 The Amore Bassinet is spacious for Baby with the following dimensions: height 84cm, length 84.5cm and width 54.5cm. The inside bassinet measurements are: length 79cm and width 39cm. When Baby is big enough, an easy transition can be made to the Tasman Eco Siena Cot. The Tasman Eco Amore Bassinet is a fantastic choice for a newborn and is available in White, Latte and Mocha. Tasman Eco products are stained with 100% non-toxic finishes and paints to minimise common allergy triggers.
The Tasman Eco Turin Change Table is made from the same quality finished timber and is available in the same stylish colours. It is such a practical change table – it's high sides protect even the most active baby from rolling off. There is no bar at the end, which means even the tallest of babies can be changed on this change table. The four wheels give you easy mobility and two brakes on the front wheels provide added safety.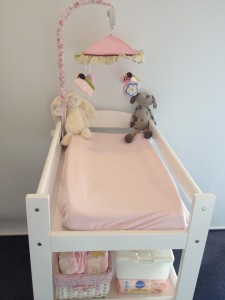 The two shelves underneath provide ample space for accessible storage which allow you to organise Baby's necessities. Baskets can be bought which fit perfectly on the shelves to organise baby's clothes, lotions and potions. You'll need to buy the Change Mat separately and the ideal size change mat is 79cm x 46.5cm for this Change Table. When fully assembled, this change table is 99.5cm high, 84.5cm long and 56.5cm wide. As with all Tasman Eco furniture, assembly can be done DIY or with the help of an Expert who can assemble the furniture for you.
The Tasman Eco Amore Bassinet and Turin Change Table compliment each other with elegant curves and lines. As Baby's storage needs grow, you'll find more great ideas for furniture on the Tasma Eco website.
Tags : Tasman Eco Amore Basinet, Tasman Eco Amore bassinette, Tasman Eco Furniture, Tasman Eco Siena, Tasman Eco Turin Change Table | Comments Off

on Ready for Baby with Tasman Eco