Babies tend to be fussy creatures, especially when it comes to sleep. So when you're travelling away from home it's vital your child has somewhere secure to rest.
But with all the gear new parents have to carry, you can't very well pack a full-sized cot into your luggage. Instead, you'll need a crib that's as compact as it is cosy.
The BabyBjorn Travel Cot Light is our top pick in travel cots. At an ultra-lightweight 6 kilograms, it doesn't sacrifice portability for comfort.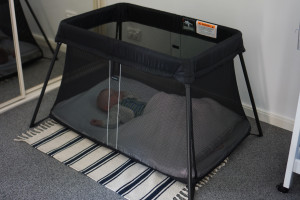 Our family had no trouble setting up the cot in seconds. In one movement, we unfolded it from the smart carry bag and lay it on the floor. Such ease of use makes it perfect for frequent short trips away or even afternoon naps at grandma's.
The sturdy foam mattress don't sag in the middle and has none of the hassles of inflating mattresses. It lies virtually flat on the ground, providing great support for our little girl's back and head. And unlike some other brands, you can even tuck sheets and blankets underneath the mattress so your child feels safe and secure. The mesh is now to the floor – an improvement on the original BabyBjorn travel cot.
Baby fell asleep first go in the cot at home, which means we can plan our summer holidays safe in the knowledge our night-timeswill be restful and relaxing.
The updated black mesh walls will be especially useful in our Australian summer, allowing ample air-flow on hot days near the beach. And because the minimalist design looks so stylish and the footprint is compact, we don't even bother packing the cot away at home. Instead, we find it makes a handy and discreet day bed in the lounge room or bedroom – wherever we like, actually, as it's so easy to move!
When the time comes to clean the cot, we can easily remove and machine wash the fabric. To find out more about the BabyBjorn Travel Cot Light and other gorgeous products visit the BabyBjorn website.
Tags : baby, BabyBjorn, BabyBjorn for toddlers, BabyBjorn Travel Cot Light, Travelling with Baby | Comments Off

on Summer with the BabyBjorn Travel Cot Light