Why is there something about the Maclaren Techno XT that reminds me of James Bond? After some thought I decided that no, I am not just being over dramatic, but yes indeed, there are quite a few points which form this association. Firstly, the Maclaren Techno XT is high-tech, good looking, packed with innovative features, sporty and adventurous but also sophisticated and elegant and, oh yes… British…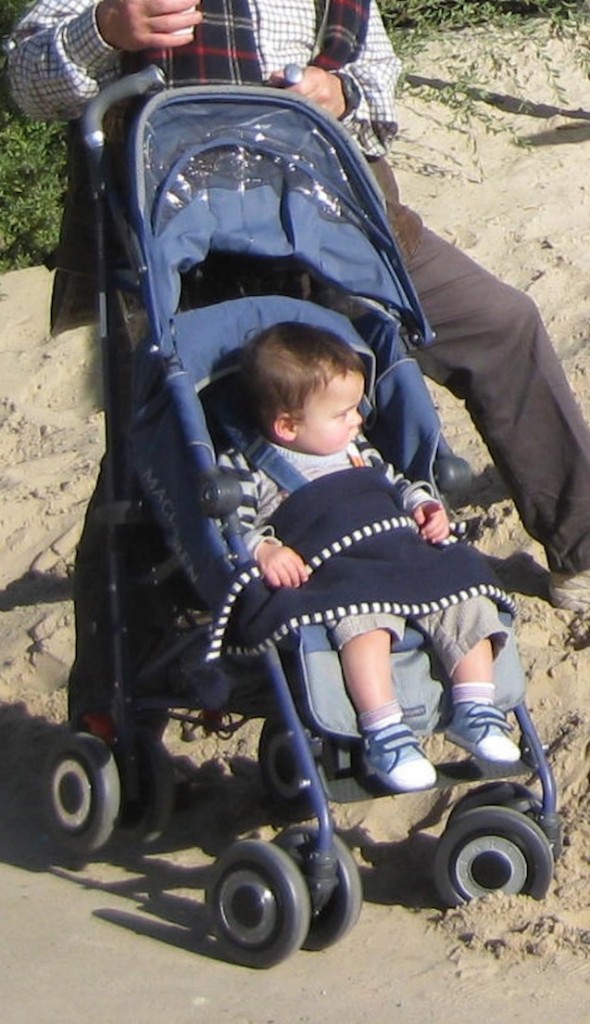 The truly winning point for me is that the Maclaren Techno XT is that oh so rare, versatile all-in-one package. It is safe and comfortable for baby and can take us from sporty outdoors adventures to elegant exhibition openings where everyone is sipping cocktails and dressed in black.
On our most recent trip to visit baby's grandparents in Melbourne, we used the Maclaren Techno XT as our all-in-one pusher. We used it for varied activities including jogs on unsealed terrain, strolls on grass and sand, lots of pavement walking, shopping and gallery perusing.
We are extremely impressed with the Maclaren Techno XT, in terms of appearance and performance. It comes in a variety of great colours and we just love the Crown/Blue, which has charcoal and silver coloured detailing. It has a 5-point harness system and the seat is well padded for baby's safety and comfort. It performs very well in all regards, is easy to maneuver and fold (only needs one hand!) and makes a comfortable and secure sleeping pad for baby whilst out and about (baby has never slept as well in any other pusher!).
Like the super lightweight Maclaren Volo, the Maclaren Techno XT is a compact umbrella pusher. At the other end of the Maclaren range, the Techno XT is a little heavier than the Volo, however with this little extra weight comes a whole host of features, the Techno XT revealing itself as a high-tech, highly detailed, super comfortable, rather sporty little number!
The Maclaren Techno XT features:
Basic Weight 7.9kgs: The Techno XT is a great balance between being lightweight and having all the features that enable it to be a high-tech all-in-one pusher.
Carrying Capacity up to 20kg: This weight capacity allows for the Maclaren Techno XT to be used well into early toddlerhood.
Appropriate From Birth: The Techno XT is suitable to use from birth and comes with extra support pads to ensure newborn baby is supported and comfortable.
Recline Four positions: The four recline positions are amazing! From sitting in a fully upright position, to relaxed reclining, to horizontal for maximum sleeping comfort. You can raise the seat incline with one hand from behind, but do need two hands to lower the seat, which is easily done by lifting two small levers. Also, when the seat is fully reclined, the rear cover fits snugly around the head and the hood can unfold right forward over the seat, which creates an enclosed little bed.
Wheel Size 16.5cm/ 6.5in: The large wheel size is ample for not only urban areas but also strolling and even jogging on graded unsealed terrain, such as grass or gravel. Also, the pusher's maneuverability can be enhanced with the built-in front wheel swivel function.
Hood design: The hood design is a great feature. It is extendable with a neatly zipped section that can fold forward to protect baby from weather and creates a protected little bed when the seat is reclined.  There is also an in-build clear visor folded neatly under the hood that is easily flipped out to provide extra protection from the weather.  The pusher also has a large reflective stripe on the hood, which is a great visual feature and also acts as an important safety feature.
Hood air vents and large viewing widow: The air vents enable good air circulation and the large viewing window?enables a clear view to baby.
Elasticized pockets: There are two generous elasticized pockets, which can carry the rain cover and mosquito net. I also find them useful for carrying things like my phone and keys that I like to have easily accessible.
Satin finish handles: The satin finish handles not only look great, but are comfortable and easy to keep clean. The handles are also extendable which allows adjustment for all users.
Reflective hubcap design: I think these are a good safely feature, particularly if you ever use your pusher in situations of low visibility.
Foot-operated linked parking brakes: The red brakes are linked to the park brakes and can be easily activated with either foot from behind either rear wheel.
Front and rear suspension: I think bub would like to thank Maclaren for the four-wheel suspension! It certainly does seem to add to the comfort of baby's ride and allows for use on varied terrain.
Extendable leg rest: I have found this to be a great feature to complete horizontal comfort when baby is reclined and sleeping.
Flexible footrest: This is great when pusher is in use and when pusher is folded.
Height adjustable shoulder harness: This is yet another fantastic Maclaren detail that ensures maximum safely and comfort for your child.
Includes headhugger and shoulder pads: These ensure that when the Maclaren Techno XT is used from birth, your newborn baby is safe and comfortable.
Carry Handle: This is a very handy feature when carrying the pusher folded.
Rain cover (included): The rain cover is quick and easy to attach with built-in clips and provides great protection. It also comes with the pusher!
Footmuff (included): Particularly in cooler climates this is a great feature to keep baby snugly warm, enabling you to continue getting out and about as the cold sets in. It also has a large reflective stripe on the front, which is a great visual feature, but also acts as an important safety feature at times of low visibility.
The Maclaren Techno XT boasts all the usual Maclaren features:
5-point harness system: This feature is well balanced and secure, with the clasp requiring quite some finger strength ensuring it to be child safe. Strap lengths at all points are easily adjustable.
Washable seat: This is a very practical feature for those dirty parts that are just a bit much for baby wipes to tackle.
Compact Umbrella Fold: This is a truly winning feature in my opinion. The pusher folds up very easily into a compact package, making it so easy to carry and stow.
Foot operated brakes: The red foot operated breaks are linked to park brakes, which can be activated with either foot with levers situated behind both back wheels.
Shopping basket: The Techno XT shopping basket has a 3kg weight capacity and reaches all the way under the seat.  It is large enough for storing all the things we need for a day's outing or even an impromptu grocery shop!
High performance aluminium: It is Maclaren's use of the strong aluminium frame, which enables the Techno XT pusher to be so lightweight.
Rain cover (included): The Techno XT's rain cover works very well, is easy to use and folds into a tiny bundle to be carried in a pocket at the back of the seat.
Water resistant hood: The hood design of Techno XT is a real success. The neatly zipped section enables the hood to extend forward over baby for increased protection and also provides good coverage when baby is reclined or sleeping. Neatly folded under the hood, there is a clear waterproof visor that can flip out to provide extra protection when needed.
The Maclaren XT suggested accessories include:
Light Packaway Footmuff
Parasol
Carry Bag
Buggy Blankets
Liners
Universal Organiser
Field Bag
Park Bag
Mini utility tote
If you are after a safe, durable, high-tech and stylish all-in-one pusher, my husband and I (and baby I'm sure!) highly recommend the Maclaren Techno XT. We find it to be very well designed and thoroughly detailed, attractive and appropriate for varied use in urban and graded terrain conditions. Being lightweight and compact also means it is ideal for travel.
For further details on this product and the full Maclaren range please visit CNP Brands http://www.childcareproducts.com.au/
Tags : all-in-one pusher, Maclaren, Maclaren Techno XT, Maclaren Volo, pusher, umbrella pusher | 5 comments