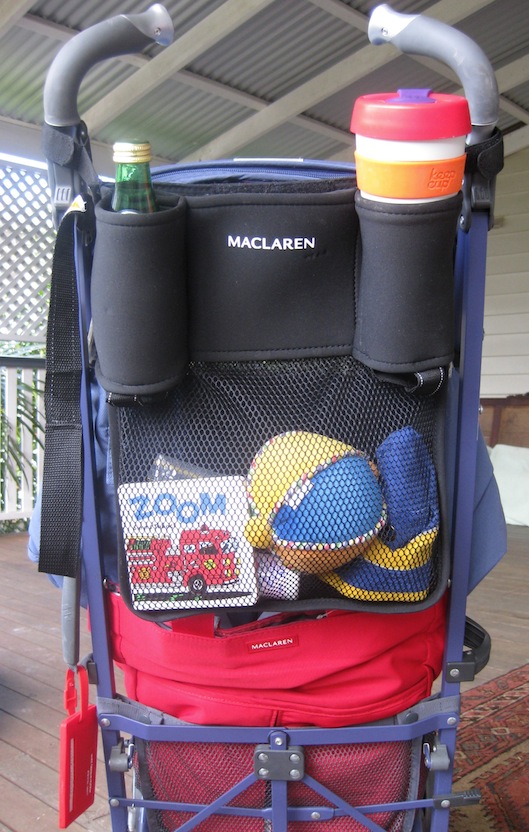 Two of my favorite things are: 1) accessories and 2) being organised. So you can imagine how I felt with the arrival of my new Maclaren accessories that promised to make my life easier and more organised! I think many of the Maclaren accessories look useful, but for now we chose the Travel Bag, Universal Organiser, Reversible Seat Liner and Field Bag.
Travel Bag (Single)
With our family spread across Europe, Canada and all parts of Australia, we have become quite the practiced and proficient travellers. However saying this, I still dread maneuvering the towering mountain of luggage required when travelling with Toddler. So I welcome the Maclaren Carry Bag which is great to help keep our pusher protected and our luggage neat and organised whilst in transit, which means we have had good luck with everything turning up on luggage carousels in perfect condition.
We find both our Maclaren Volo and Maclaren Techno XT ideal for travel and whichever we take, we find the Maclaren Travel Bag helps to ensure the pusher is protected whilst in transit. It is made from heavy-duty black nylon fabric and reinforcing strapping and has a single long grey zip making it is easy to get the pusher in and out.  It has sturdy little wheels to enable the carry bag to be wheeled as well as carried and a Velcro strap to hold the handles together. It is a classic and neat design, coming in black fabric printed with the Maclaren logo and comes with a customised red Maclaren luggage tag.
On our last trip from Brisbane to Melbourne, after a bumpy ride the carry bag arrived with some general wear and tear and the pusher inside was protected – the carry bag had done its job, and Baby was wheeled out of arrivals with mummy very happy and relaxed!
Universal Organiser
The Universal Organiser has proved to be a little gem. I find it enables me to keep all our essentials easily accessible and close at hand so we can have a much more relaxed time when out and about. The Universal Organiser attaches to the pusher's handles with Velcro straps and hangs behind the seat back. It has a large central pocket with a mesh front, two insulated cup holders and a little pocket in between with a Velcro closed top.
The generous central pocket has the capacity to hold quite a lot, such as a couple of small toys, books and snacks and even a small nappy pack. The mesh front makes it easy to see where everything is, so you can easily find what you are looking for, preventing those frustrating moments of fumbling around in the dark!
Initially I found the two insulated cup holders to be little tight, but they have proved to actually work well holding cups/drink bottles firmly. I use the small pocket in between the cup holders to hold my phone and keys and feel comfortable knowing that they are safely enclosed but also easily accessible. This is particularly good if Baby is asleep and my phone is on silent and I can hear it vibrate, or if I am having one of those days and am in a rush to get a tired grumpy Toddler in the car and need the keys!
Reversible Seat Liner
The Reversible Seat Liner is a practical accessory that protects your pusher and helps to keep things neat and organised.  It comes in a great range of two-sided colours and patterns, is soft and comfortable for Baby, durable and best of all is machine washable.
We chose the sunny yellow striped/black Reversible Seat Liner and use it in the pram permanently. I love the splash of colour and find it very practical to catch any bits and pieces that Baby will inevitably drop in the course of a day. Of course if there is a major spill whilst out and about one can just flip it over and deal with it later! Even though the pusher seat is washable I do find it easier to just wash the liner instead of having to wash the whole seat.
We only have one Reversible Seat Liner at the moment, but I can imagine that having a couple of them would be a great idea so you have one to use whilst you are washing the other.
Field Bag
The Field Bag is a great looking and practical bag, which can be used as one's primary nappy/child's bag.  We chose the Scarlet colour, which has great red, grey, white and black striped lining. I think it looks great by itself or with either our neutral toned Maclaren Volo pusher or Crown/Blue Maclaren Techno XT.
It has a large central pocket, which can fit everything required for a trip to the pool or playgroup and it is magnetically secured for quick and easy access to avoid those tricky moments when you feel like you could do with a third hand. It has an exterior front pocket and two exterior side pockets and lots of zipped and non-zipped interior pockets in which to store various small items, such as bottles, creams, snacks, sunscreen etc. I usually carry our Field Bag in the pusher's basket, however it has an adjustable shoulder strap and can be carried across your back/chest or over one shoulder – however you feel most comfortable.
For me, one of the winning features is the change mat. It is neatly zipped to the back of the bag and unzips to provide a generous (detachable and machine washable) change mat. This provides a safe and comfortable surface on which to change Baby no matter where you are, which means no more worry about those questionably clean public washrooms!
From my experience, my Maclaren accessories really help in keeping things neat and organised. I think the Travel Bag is a fantastic help when you need to protect your Maclaren pusher whilst in transit or storage, the Universal Organiser for me is now an everyday essential, the Reversible Seat Liner continually keeps things clean and the Field Bag is a practical all-in-one nappy bag. Now that I use them, I can't go back!
For more information on any of the above reviewed products as well as the full range of Maclaren accessories, please visit CNP Brands.
Tags : Baby Accessories, cup holder, Maclaren, Nappy bags, Organised Outings, Plane Travel, Pusher Accessories, Techno XT, Toddler Accessories, Volo | Comments Off

on Maclaren Accessories: Enjoy Organised Outings