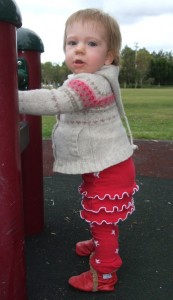 Baby is a winter baby, born at the beginning of winter last year. Like her mother, Baby simply adores shoes! This time last year, it was knitted booties in a broad spectrum of colours which adorned her tiny feet. This year given her increased mobility, need for warmth, comfort and of course style – she is wearing the SKEANIE UGG!
Made from soft leather, with a furry lining and dark suede sole, the SKEANIE UGG is perfect for indoors and outdoors. It is well stitched and assembled, with an elasticised collar which allows the boots to be gently stretched and put on Baby's feet. It is reassuring to know SKEANIE is a preferred provider of the Australian Podiatry Association (NSW).
SKEANIE UGGs are not only warm and comfortable for this cool winter weather, they are super stylish. Given it is birthday party season for Baby and her friends, she has been sporting her SKEANIE UGGs to many of her friends parties and even wore them to her own birthday party. She's had lots of compliments on her new boots.
Baby is the biggest fan of her new boots. When I am dressing her, Baby squirms and points to her UGGs. She picks them up and even trys to put them on her feet herself! Once the boots are on, she leaps up and walks around – it seems these SKEANIE boots were made for walking and that's just what she'll do!
SKEANIE UGGs are available in a wide range of fashion colours, I couldn't resist choosing red for Baby. To complete her stylish look, Baby has a red skirtle with white stars and red socks with white stars – all from SKEANIE.
You may be asking yourself – What is a skirtle? It is defined on the SKEANIE website as a garment hanging from the waist with a snug stretchable garment covering the legs from the waist down. Simply put it is an all-in-one ruffled knit skirt and footless tight combo. As you can see from the picture, Baby looks gorgeous in her SKEANIE skirtle, matching socks and SKEANIE UGGs.
The SKEANIE UGG is available in sizes Small, Medium, Large and Extra Large. The SKEANIE website cleverly includes a chart with Baby Shoe Sizes which I printed out check the size of Baby's feet. I put Baby's foot against the piece of paper and determined she was a Medium. I found the SKEANIE website easy to navigate and Baby's UGGs arrived a couple of days after I placed the order online. To see the full range of SKEANIE Shoes, Skirtles and Socks, visit the SKEANIE website.
Tags : Boots for Babies, SKEANIE, SKEANIE UGG Boots, Skirtle, Socks for Babies | 1 comment