Posted by
Diana
on
Monday Jan 20, 2014
Under
Baby Travel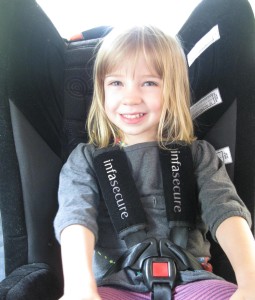 Safety is always at the forefront of your mind when selecting a car seat for your little one. An independent source of information which I have found useful when researching car seat safety is CREP (Child Restraint Evaluation Program). This organisation tests car seats in a crash lab with crash test dummies – really!
On the CREP website, simply choose from the following age groups: 'Babies up to approx 6 or 12 months', 'Children approximately 6 months to 4 years' and 'Older children 4 to 10 years'. Some of the most well know car seats are listed in front of you and you can tick boxes to compare the car seat ratings!
The InfaSecure Comfi-Cruiser is one of the safest car seats for children aged between 6 months and 8 years old. Building on this commitment to safety, InfaSecure have recently released the Comfi Caprice for children aged between 6 months and 4 years old in the in-built harness, and through to 8 years old as a booster seat. Innovations have been made on safety, comfort and ergonomics when creating the Comfi Caprice – the newest addition to the Infasecure family!
The safety features of the Comfi Caprice include the same deep energy absorbing side wings and blow moulded backrest which offer protection for side impact. The unique shape of the seat base and the sloped surface results in a safer response of the seat in frontal impact situations.
When the Comfi Caprice is in booster mode, the arm rests work in tandem with the new base to keep the lap belt down across the lap of your little one. A Safe Grip Belt Clamp ensures the belt does not ride up into the soft abdomen region. In addition, the belt path is under-the-seat rather than through-the-back-rest for enhanced safety in a frontal impact situation. All round there has been great attention to safety in the design of the Comfi Caprice.
Did I mention it is comfy? The new ergonomic shape of the Comfi Caprice, has a high backrest and even has a recline position, making it super comfy for my little one. The redesigned inserts and cover are made from a soft fabric which is available in six stylish colours. Accessories for the Comfi Caprice include a full length seat protector and a removable cup holder. To find out more about the Comfi Caprice and the full suite of car seats visit the InfaSecure website
Tags : CREP, InfaSecure, InfaSecure Comfi Caprice | Comments Off

on Comfi Caprice – safety meets comfy